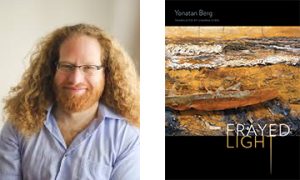 "Yonatan Berg's poetry is fervent and relentless in its language, each poem moving forward in a series of proclamations that are as absolute as they are heartbreaking, 'We told ourselves it would pass./We put everything in place, near/the couches, the armchairs. On the balcony, flowers/spiraled towards the sun.' In the midst of this book's almost unbearable traumas, its attention to that which is rapturous and romantic about the natural world asks us to rethink how our wars kill us and our ability to see the beauty of the planet on which we live. These are necessary translations. And these translations by Joanna Chen bring to light the fact that poetry travels beyond language. This is a beautiful book." —Jericho Brown, author of The New Testament
This poetic collection is an honest and deeply reflective look at life overshadowed by disputed settlements and political upheaval in the Israeli−Palestinian conflict. Frayed Light brings together the best poems from Yonatan Berg's three published collections in Hebrew, deftly translated by Joanna Chen. His poetry recounts his upbringing on an Israeli settlement in the West Bank, and service in a combat unit of the Israeli military, which left him with post-traumatic stress disorder. He grapples with questions of religion and tradition, nationalism, war, and familial relationships. The book also explores his conceptual relationship with Biblical, historical, and literary characters from the history of civilization, set against a backdrop of the Mediterranean landscape. Berg shares an insider's perspective on life in Israel today.
Read Yonatan Berg's thoughtful statement on Israel, Palestine, and BDS here. 
Watch a video of Berg discussing the role of poetry and culture in preventing conflict. Source: Ukraine Today.
YONATAN BERG is a leading Hebrew poet. He is the youngest recipient of the Yehuda Amichai Prize and a number of other national awards. He has published three books of poetry, one memoir, and two novels. His latest book, Far from the Linden Trees, was published in 2018 and received excellent reviews. Yonatan Berg is a bibliotherapist and teaches creative writing in Jerusalem.
JOANNA CHEN is a British-born writer and translator whose work has been published with Poet Lore, Guernica and Narratively, among many others. She writes a column for The Los Angeles Review of Books. Chen's translations make Hebrew and Arabic texts accessible to an English-speaking audience. As well as Frayed Light, she translated Less Like a Dove (Shearsman Books 2016), a collection of poetry by Agi Mishol, and My WIld Garden (Shocken), a work of non-fiction by Meir Shalev, forthcoming in 2020. Her translations have appeared in Poetry International, Asymptote and Consequence, among many others. Read more at www.joannachen.com