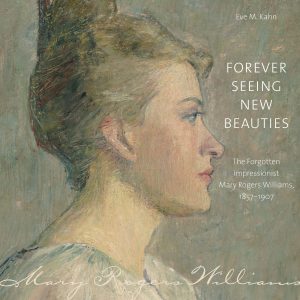 "From a forgotten box of letters Eve Kahn meticulously stitches together the life, travels, work, opinions, humor and travails of Mary Rogers Williams. Kahn's zealous detective work begs the question, how many other women, erased to history, await discovery?" — Marcia Ely, Executive Vice President, Brooklyn Historical Society
"Eve Kahn evocatively reconstructs Impressionist painter Mary Rogers Williams' life in a jaunty style fitting her upbeat, globe-trekking, paintbrush-wielding subject. A rare woman's perspective on 19th century cosmopolitan life, it's a must-read."―Katherine Manthorne, art historian, CUNY Graduate Center
Revolutionary artist Mary Rogers Williams (1857−1907), a baker's daughter from Hartford, Connecticut, biked and hiked from the Arctic Circle to Naples, exhibited from Paris to Indianapolis, trained at the Art Students League, chafed against art world rules that favored men, wrote thousands of pages about her travels and work, taught at Smith College for nearly two decades, but sadly ended up almost totally obscure. In 2012, her confessional letters and hundreds of her paintings and sketches turned up in storage at a Connecticut family's home.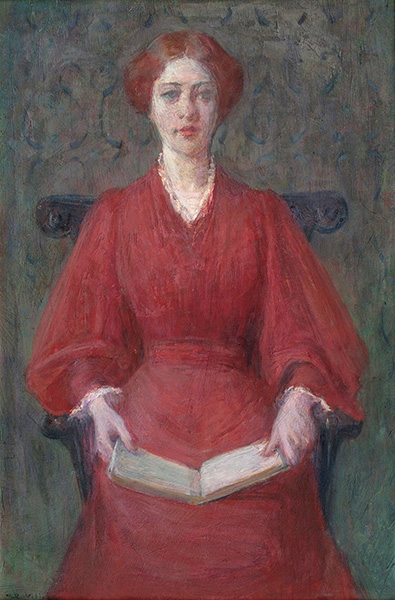 A Girl in Red, undated (pre-1901) oil on panel, 21 x 14 in. A work of that title was shown in Mary's posthumous exhibitions. WFC (photo: Ted Hendrickson). 

Self Examination, undated sketch of a decapitated doll impassively gazing at its body parts. WFC.
Her first biography, Forever Seeing New Beauties: The Forgotten Impressionist Mary Rogers Williams, 1857–1907, reveals her as funny, self-deprecating, caustically critical of mainstream art, and observant of everything from soldiers' epaulettes to colorful produce layered on delivery trucks. She was determined to paint portraits and landscapes in her distinctive style. The book reproduces her unpublished artworks that capture pensive gowned women, Norwegian slopes reflected in icy waters, saw-tooth rooflines on French chateaus, and incense hazes in Italian chapels, and it offers a vivid portrayal of an adventurer, defying her era's expectations on a tight budget.
EVE M. KAHN is an independent scholar specializing in art and architectural history, design and preservation, and was weekly Antiques columnist at the New York Times, 2008−2016. She contributes regularly to the Times, The Magazine Antiques, Apollo, and Atlas Obscura.