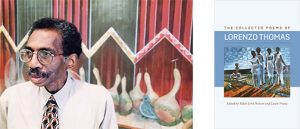 "It is beautiful and amazing to have access to the vast range of invention, intensity, and surprise that Lorenzo Thomas's poetry offers. His contribution is indispensable, immeasurable and—even now, even here—unbound. "
—Fred Moten, author of The Little Edges
"This generous tome of too-hidden genius griot-bodhisattva Lorenzo Thomas shimmers with an alert curiosity and humanity's tender blues.  An important figure of second generation New York School practice as well a son of Black Arts and companion to Umbra, Thomas has never wavered in his celebration of ancestors from Pharoah Hohemreb to Leopold Senghor to Jimi Hendrix. "Stir it up" Thomas writes, and he does. This Collected is a magnificent intervention of poetry's orality in a radical time he was very much a part of."
—Anne Waldman, author of Trickster Feminism
"Lorenzo Thomas is an essential poet of postwar America. His sumptuous poetic inventiveness is grounded in searing social consciousness. Through dazzling sound patterning and the deft interplay of conflicting voices and discourses, Thomas proves the necessity of aesthetic pleasure for waking us from the slumber of complacency. "
—Charles Bernstein, author of Pitch of Poetry
Born in Panama to Afro-Caribbean parents, Lorenzo Thomas (1944−2005) grew up in New York City, where he participated in the Umbra Workshop. Influenced by the work of the Caribbean poet Aimé Césaire, Thomas was part of the Black Arts Movement. After serving in Vietnam, he was writer-in-residence at Texas Southern University, where he helped edit the journal Roots. He was a professor of English at the University of Houston for more than two decades, starting in 1984. From 1973–1979 he served as Writer in Residence at Florida A&M University.
Over his illustrious career, he was awarded the Foundation for Contemporary Arts Grants to Artists, the Lucille Medwick award, the Poets Foundation award, the Committee on Poetry Grant, and the Dwight L. Durling Prize in Poetry. His published works include Don't Deny My Name (2008), Dancing on Main Street (2004), Extraordinary Measures: Afrocentric Modernism and 20th-Century American Poetry (2000), The Bathers (1981), and Chances Are Few (1979).
Thomas's poetry synthesizes New York School and Black Arts aesthetics, heavily influenced by blues and jazz. In a career that spanned decades, Thomas constantly experimented with form and subject, while still writing poetry deeply rooted in the traditions of African American aesthetics. Whether drawing from his experiences during the war in Vietnam, exploring his life in the urban north and the southwest, or parodying his beloved Negritude ancestors, Thomas was a lyric innovator. The Collected Poems of Lorenzo Thomas is the first full collection of works spanning across four decades of his career, including poems never before published in books.
Song
You asked me to sing
Then you seemed not
To hear; to have gone out
From the edge of my voice
And I was singing
There I was singing
In a heathen voice
You could not hear
Though you requested
The song–it was for them.
Although they refuse you
And the song I made for you
Tangled in their tongue
They wd mire themselves in the spring
Rains, as I sit here folding and
Unfolding my nose in your gardens
I wouldn't mind it so bad
Each word is cheapened
In the air, sounding like
Language that riots and
Screams in the dark city
Thoughts they requested
Concepts that rule them
Since I can't have you
I will steal what you have
LORENZO THOMAS (1944−2005), was a critic and poet, and published volumes of scholarship as well as numerous essays, including several histories of the Umbra group.
ALDON LYNN NIELSEN (editor) is the author of Integral Music: Languages of African American Innovation. He is the George and Barbara Kelly professor of American literature at Penn State University.
LAURA VRANA (editor) is assistant professor of English specializing in African American literature and poetry at the University of South Alabama.