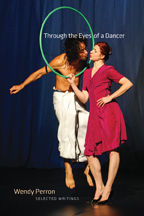 In December, Wendy Perron, an editor for Dance magazine and author of Wesleyan's Through the Eyes of a Dancer, shared her book with captivated audiences in two cities west of the Mississippi. The first event took place in Salt Lake City on December 2nd. Michael Bearden, director of Ballet Arkansas said of the reading "I had the opportunity to hear Wendy Perron read excerpts from her new book last night. She was articulate, insightful and moved the audience to tears. To all my friends in Houston, go hear her speak on Thursday and check out her new book." Read more about it in 15 Bytes: Utah's Art Magazine.
On the 5th, Perron was invited to read for an audience at the Houston Ballet. Andrew Edmonson, press manager of Houston Ballet, Tweeted about the event: "just back from a reading by the divine Wendy Perron of her stellar new book, Through the Eyes of a Dancer, a fascinating, opinionated walk through five decades of change and innovation in the dance world. Eye opening and thought provoking."
Don't miss Perron's events in New York City next month. The first will be held on February 24th at the Barnes and Noble on the Upper West Side, where she will be moderating a reading by Jennifer Ringer of the New York City Ballet. The second will be on February 28th at Steps on Broadway.