Brenda Hillman's Seasonal Works with Letters on Fire is the International winner of the 2014 Griffin Poetry Prize. The prize was founded in 2000 to serve and encourage excellence in poetry, and past winners have included eminent writers like Fady Joudah, John Ashbery, Kamau Brathwaite, Charles Simic, Paul Muldoon, and Alice Notley.
.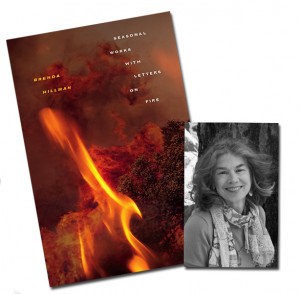 .
This year, the judges—Robert Bringhurst, Jo Shapcott, and C.D. Wright—read 542 books of poetry from 40 countries. Seven books were shortlisted, and two winners chosen—one from Canada and one internationally. Hillman, Anne Carson ( the Canadian winner ), and shortlisted poets were celebrated at a June 4th reading, attended by a thousand people, at Koerner Hall Toronto's Royal Conservatory; the awards ceremony was held the next evening.
.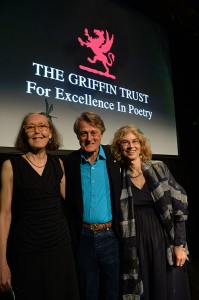 Scott Griffin presents the 2014 Griffin Poetry Prize winners: Brenda Hillman and Anne Carson.
.
Seasonal Works with Letters on Fire concludes Brenda Hillman's tetralogy on the four elements of classical thought, following Cascadia (2001), Pieces of Air in the Epic (2005), and Practical Water (2009), all published by Wesleyan. In their citation, the judges wrote:
"[Hillman] steers wildly but ably through another day of teaching, a ceremonial equinox, the distress of bee colony collapse; space junk, political obstruction, military drones, administrative headaches, and everything in between. The 'newt under the laurel' and 'the herring purring through the eelgrass' don't escape her arc of acuity. Seasonal Works appears to be one of the most inclusive books a hyper-active imagination could wring out of the actual. The symbols of the alphabet come alive and perform acrobatic marvels. Phonetical bird calls join in on cue. The mighty challenges of now are fully engaged. The book performs an 'anarchic music' and stimulates a craving for undiluted love, and a rollicking fury for justice that only its widely variant forms can sustain. This is a unique work. Its letters are on fire."
Brenda Hillman was born in Tucson, Arizona and spent part of her early childhood in Brazil. After receiving her BA from Pomona College, she attended the University of Iowa, where she received her MFA. Wesleyan University Press has published nine collections of Hillman's poetry, including Practical Water (2009), for which she was awarded the Los Angeles Times Book Award for Poetry. In 2010, Hillman co-translated Jeongrye Choi's book of poems, Instances. Hillman has received fellowships from the National Endowment for the Arts and the Guggenheim Foundation, two Pushcart Prizes, a Holloway Fellowship from the University of California at Berkeley and the Delmore Schwartz Memorial Award for Poetry. Hillman serves as a professor and poet-in-residence at St. Mary's College in Morago, California. She is also a member of the permanent faculties of Squaw Valley Community of Writers and Napa Valley Writers' Conference. She is an activist for social and environmental justice and lives in the San Francisco Bay Area.