This week's TBT selection is Peter Gizzi's "The Ethics of Dust" from Some Values of Landscape and Weather (2003). You can find a review of Peter's latest book, In Defense of Nothing, in the July/August issue of Boston Review.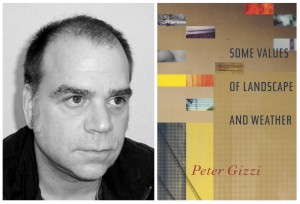 The ethics of dust
to think I have written this poem before
to think to say the reason I came here
sound of yard bird, clinking lightbulb
to think the world has lasted this long
what were we hoping to say:
ailanthus, rosebud, gable
saturnalia, moonglow, remember
I am on the other side now
have crossed the river, have
through much difficulty
come to you from a dormer closet
head full of dark
my voice in what you say
at this moment you say
wind through stone, through teeth
through falling sheets, flapping geese
 every thing is poetry here
a vast blank fronting the eyes
more sparkling than sun on brick
October's crossing-guard orange
PETER GIZZI is the author of Threshold Songs, The Outernationale, Some Values of Landscape and Weather, Artificial Heart, Periplum, and In Defense of Nothing. He teaches at the University of Massachusetts, Amherst.