This week's TBT selection is "Worn Blues Refrain," from Honorée Fanonne Jeffers' 2003 collection Outlandish Blues. Wesleyan is publishing her book, The Glory Gets, in Spring 2015.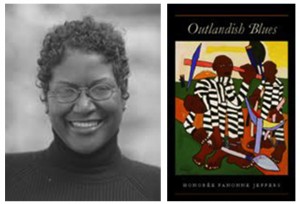 .
.
Worn Blues Refrain
My father danced on Saturday mornings,
turned his fat professor's legs the wrong way.
No rhythm self, tripping over Mama's corns,
his jitterbug like a worn blues refrain.
Then the afternoons, he sat himself down
to the piano, knee pants memories
of Louis and his trumpet come to town.
Louis didn't crack a smile. Don't believe?
Want to dispute it? Dad didn't think so
and commenced with Jelly Roll religion.
Those porcelain hours, demons stopped poking
my father. From someplace close he found love.
He got some rhythm when he played the blues,
hollered and touched us all without bruising.
.
.
HONOREÉ FANONNE JEFFERS  is the author of three books of poems, including Red Clay Suite (2007), Outlandish Blues (2003) and The Gospel of Barbecue (2000). Her next book, The Glory Gets, will be published by Wesleyan in Spring 2015. Her other honors include the 1999 Stan and Tom Wick Prize for Poetry for her first book and the 2002 Julia Peterkin Award for Poetry, as well as awards from the Barbara Deming Memorial Fund and the Rona Jaffe Foundation and fellowships from the National Endowment for the Arts, the American Antiquarian Society, the MacDowell Colony and the Bread Loaf Writers Conference. A founding member of Cave Canem, the writer's colony for African-American poets, Jeffers teaches at the University of Oklahoma, where she is Associate Professor of English.