For the first time in English, readers can now evaluate the extraordinary breadth of César Vallejo's diverse oeuvre that, in addition to poetry, includes magazine and newspaper articles, chronicles, political reports, fictions, plays, letters, and notebooks. Edited by the translator Joseph Mulligan, Selected Writings follows Vallejo down his many winding roads, from Santiago de Chuco in highland Peru, to the coastal cities of Trujillo and Lima, on to Paris, Madrid, Moscow, and Leningrad. This repeated border-crossing also plays out on the textual level, as Vallejo wrote prolifically across genres and, in many cases, created poetic space in extra-literary modes. Informed by a vast body of scholarly research, this compendium synthesizes a restored literary corpus and—in bold translations that embrace the idiosyncratic spirit of the author's writing—puts forth a new representation of this essential figure of twentieth-century Latin American literature as an indispensable alternative to the European avant-garde. Compiling well known versions with over eighty percent of the text presented in English translation for the first time, Selected Writings is both a trove of and tribute to Vallejo's multifaceted work. Includes translations by the editor and Clayton Eshleman, Pierre Joris, Suzanne Jill Levine, Nicole Peyrafitte, Michael Lee Rattigan, William Rowe, Eliot Weinberger, and Jason Weiss.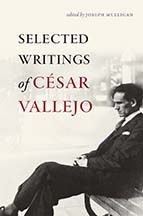 César Vallejo (1892–1938) was born in the Peruvian Andes and, after publishing some of the most radical Latin American poetry of the twentieth century, moved to Europe, where he diversified his writing practice to encompass theater, fiction, and reportage. As an outspoken alternative to the European avant-garde, Vallejo stands as one of the most authentic and multifaceted creators to write in the Castilian language.
Joseph Mulligan is a professional translator and scholar. He has translated Against Professional Secrets by César Vallejo, The Antiquarian by Gustavo Faverón Patriau, and a selection of Sahrawi poetry included in Poems for the Millennium Volume IV: The University of California Book of North African Poetry. He lives in Rochester, New York.
Publication of this book is funded by the Beatrice Fox Auerbach Foundation Fund at the Hartford Foundation for Public Giving.
Praise for the Selected Writings of César Vallejo:
"Selected Writings is extraordinary in its choice of texts and the quality of translations.  Mulligan brings scholarship on Vallejo to a new level of expertise while making that knowledge accessible to a wider audience."
—Ernesto Livon-Grosman, Boston College

"César Vallejo is rightly known as a major twentieth century poet. Thanks to Joseph Mulligan's impressive edition, English readers will appreciate Vallejo's poetry in the context of his essays, journalism, letters, and explorations of other literary genres."
—Efrain Kristal, UCLA

"With his ferocious radicalism and bridge-burning experimentalism, the Peruvian César Vallejo played avant-garde to the avant-garde in the first decades of the past century. Until now, American readers of poetry have been aware of that, but many might have ignored the fact that Vallejo was a powerfully revolutionary thinker of the aesthetics of literature, the aesthetics of art, and the aesthetics of politics. This wonderful selection of his poems, letters, essays, plays, and journalistic writings, with the erudite and thoughtful commentary that Joseph Mulligan has put into the elaboration of this volume, give us a brilliant and inviting open door to access the inner workings of the convulsive, dark, agonistic, magically creative mind of one of the most radical renovators of literature in the twentieth century. A book that will change the rules of the Vallejo game forever."
—Gustavo Faverón Patriau, author of The Antiquarian
From the book:
"All political catechism, even the best of the best, is a record, a cliché, a dead object, when compared to the creative sensibility of the artist. This political action is fine in the second-rate hands of a look-alike or knock-off artist, but not in the hands of a creator. It would be good [. . .] to locate the moxie, but history offers no examples of an artist who has successfully created a great work based on polls or political parties that he supports or opposes. In general, theories hamper and hinder creation.
Before shouting on the streets or getting locked in jail, in a tacit and silent heroic act the artist must create the great deep political aqueducts of humankind that become visible and flourish only over centuries, precisely, in those ideologies and social phenomena that later echo in the mouths of the men of action, apostles, and opinion leaders we mentioned earlier.
If the artist refuses to create what we might call political clouds in the human wilderness, reducing his work to the secondary role of propaganda or the barricade itself, to whom might that great spiritual thaumaturgy fall?"
From "Artists Facing Politics" [Mundial (Lima), no. 394, December 31, 1927]