Janet Collins (1917–2003) was a renowned dancer, painter, and the first African-American soloist ballerina to appear on the stage of New York's Metropolitan Opera. It took her many years of resolve, facing the blatant racism that existed in the dance community (as it did elsewhere in the United States), to achieve the status of prima ballerina at the Met. In fact, at age 15 she was offered a position with the Ballet Russe de Monte Carlo, with the caveat that she would "paint her face white." Collins declined. But she did not give up.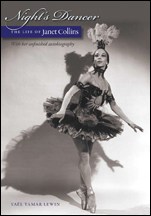 Night's Dancer: The Life of Janet Collins, recipient of the Marfield Prize,
the National Award for Arts Writing, and now available in paperback.
The first two chapters are comprised of Collins's unfinished autobiography.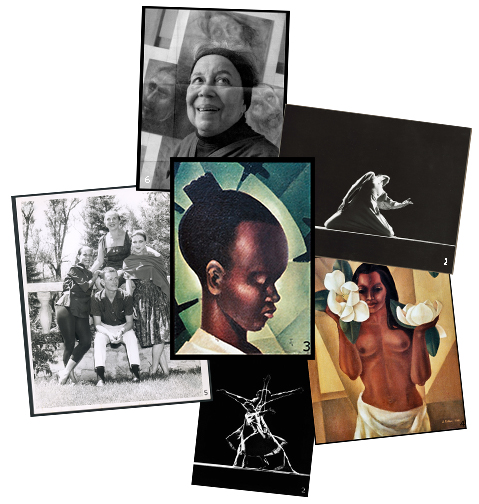 The black dancing body was welcome on American and European stages of the mid-twentieth century, but usually only in forms of popular entertainment that perpetuated African-American stereotypes: the comic, the streetwise, and the exotic primitive. These stereotypical characters were found in minstrel shows and vaudeville, as well as on Broadway and in Hollywood movies. Pioneers like Edna Guy, Hemsley Winfield, and Katherine Dunham paved the way for African-American dancers in the arena of Modern dance, but the world of ballet remained closed, its movement vocabulary deemed too refined for black performers. In addition to the stereotypes of being too raw, too sensual, and too primal, blacks also had to contend with an irrational judgment of their physiques. White dance directors and choreographers deemed the black dancing physique as incompatible with ballet's technical and aesthetic demands, assuming that they somehow lacked the grace and precision necessary to succeed in ballet.
Night's Dancer tells the story of Janet Collins, who helped to pave the way for positive change in the dance world. She remains an inspiration today, due to her artistry, courage, and perseverance. Biographer Yaël Tamar Lewin, who is also a dancer, does not shy away from the darker corners of her life. Lewin discusses Collins's battle with depression, the sterilization she underwent as a young woman, and the hard-hitting rejection she faced because of her skin color. Lewin does not merely focus on Collins's long struggle to break the race barrier. Drawing on extensive research as well as interviews with Collins, her family, friends, and colleagues, Lewin chronicles her life as a well-rounded and accomplished artist, a true pioneer in her choreographic work. Collins fused styles, topics, and music in new ways. She also was a talented painter.
Wesleyan University Press is not alone in recognizing the talents and achievements of Janet Collins. She is also the subject of Dancing in the Light: The Janet Collins Story, a new short animated film narrated by Chris Rock and produced by Karyn Parsons for Sweet Blackberry. Carmen de Lavallade, an accomplished dancer, choreographer, and Yale University professor, is working on a feature film about her talented cousin. De Lavallade is collaborating with actress/producer Roberta Haynes and writer Jenny Callicott on the film, Prima: The Janet Collins Story. Their website explains: "So many events in today's news remind us that it is increasingly important to remember the struggles of the civil rights movement." And asks: "[W]hy is it that Janet Collins' amazing accomplishment of becoming the first black prima ballerina of the Metropolitan Opera a story that remains untold?"
Collins's story is still very relevant. In her memoir, Misty Copeland (now principal dancer at American Ballet Theater) noted that "[t]here were many people who seemed not to want to see black ballerinas, who thought that our very presence made ballet less authentic, less romantic, less true. The bitter truth is I felt that I wasn't being fully accepted because I was black, that leaders of the company just didn't see me starring in more classical roles, despite my elegant line and flow." Collins was among a small, dedicated group of black dancers who helped pave a difficult road for talents such as Copeland.
Janet Collins has been widely recognized as one of the finest dancers in America. Her artistic and personal influences continue to shape the dance world today, not only due to her perseverance, but also due to her great talent and creativity as a dancer and artist.
Photo credits, all found in Night's Dancer: 1 & 2: Collins in Spirituals. Photo @ Dennis Stock/Magnum Photos. Courtesy of the Jerome Robbins Dance Division, The New York Public Library for the Performing Arts. 3: Painting of a young girl by Collins. Courtesy of the estate of Janet Collins. 4: Painting of a woman with magnolias by Collins. Courtesy of the estate of Janet Collins. 5: Collins with Hanya Holm, Don Redlick, and Elizabeth Harris, 1961. Photo by Bob McIntyre. Courtesy of Don Redlich. 6: Collins surrounded by her art. Betty Udesen/The Seattle Times. Featured image: Photo by Carl Van Vechten. Courtesy of the Van Vechten Trust and the Carl Van Vechten Papers, Yale Collection of American Literature, Beinecke Rare Book and Manuscript Library.