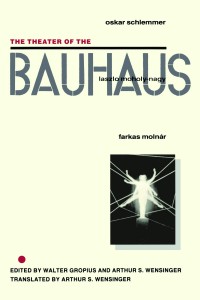 "You would hardly know, from this show, that Moholy-Nagy shared an era with Picasso and Matisse. Perhaps chalk it up to the First World War and the Russian Revolution and a fissure in Western culture between art that maintained conventional mediums and art that subsumed them in a romance with social change and new techniques. The former held firm in France; the latter flourished in Germany. Americans could thrill to both at once, as interchangeable symbols of the 'modern.' It was in America, while he was dying, that Moholy-Nagy seemed to realize and begin to remedy the imbalance, exposing the heart that had always pulsed within the technocratic genius. To be a student of his then must have been heaven," writes The New Yorker's art critic Peter Schjeldahl in "The Future Looked Bright", reviewing the Guggenheim's current retrospective exhibit on Bauhaus master László Moholy-Nagy.
Few creative movements have been more influential than the Bauhaus, under the leadership of Walter Gropius. The art of the theater commanded special attention, and its greatest commanders were none other than Oskar Schlemmer, Laslo Moholy-Nagy, and Farkas Molnár. Theater of the Bauhaus (edited by Walter Gropius and Arthur S. Wensinger, translated by Arthur Wensinger) is a reissued classic on theater design and presentation. Originally published in 1924, Wesleyan's edition was its debut in English. The text in this volume is a loose collection of essays by Schlemmer, Molnár, and of course Laszlo Moholy-Nagy, with an introduction by Bauhaus leader Walter Gropius. For scholars of Moholy-Nagy's late work in America, and scholars of Bauhaus in general, it is a necessary read and a collector's item. The book is an accurate reproduction, from the lay-out and illustrations down to the book's typography, so that Schlemmer and Moholy-Nagley's thoughts and ideas come through just as they are meant.
Moholy-Nagy: Future Present is organized by and will be presented at the Solomon R. Guggenheim Museum, the Art Institute of Chicago, and the Los Angeles County Museum of Art.