Kamau Brathwaite was honored with the 2018 PEN/Voelcker Award for Poetry
Awarded "to a poet whose distinguished and growing body of work represents a notable and accomplished presence in American literature."
Ed Roberson, Natalie Scenters-Zapico, and Ocean Vuong acted as judges for the award, noting Brathwaite's large body of work, including Elegguas, Born to Slow Horses, and Ancestors.
Brathwaite's newest collection is Lazarus Poems (2017, Wesleyan)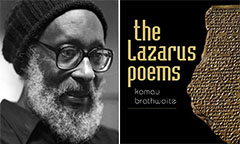 Gina Athena Ulysse's first poetry collection, Because When God is Too Busy: Haiti, me & THE WORLD, was long-listed for the PEN Open Book Award. Ulysse was recently in Barbados, presenting the annual honorary Kamau Brathwaite Lecture at the University of the West Indies. She will be reading for the Bryant Park Winter Reading Room Series on March 20, 6pm, located at the Kinokuniya Bookstore, 1073 Avenue of the Americas. Reading with Shane McCrae, Kerri Webster, Sarah Blake, and Miranda Field.