Wesleyan University Press is pleased to have authors participating in events at both Split This Rock Poetry Festival and the Los Angeles Times Festival of Books.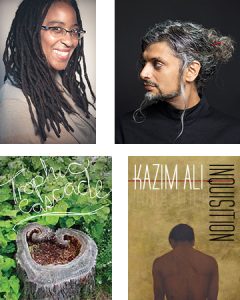 Camille T. Dungy and Kazim Ali are among the featured readers at Split This Rock, April 19–21
From the festival organizers:
Not only does poetry equip us to speak out against oppression but it helps to sustain us in these extremely perilous times. It reminds us of what it means to be fully human, holds the vision of what is possible, creates community, keeps alive what we value: compassion, justice, love. Poetry helps us find our voice when we feel powerless. It helps us be our best selves, so we can continue the long-term activism our current climate demands.
As we selected sessions for the 2018 festival, we were particularly interested in sessions designed to help us combat despair (or ride through it), learn from one another across generations, celebrate cultures targeted by hate, figure out what it means to live in this time, and equip us all as creative and effective citizens and activists.
Continue Reading Here….
Thursday, April 19 | 7-8:30 PM
Camille T. Dungy, Sharon Olds, Javier Zamora
Saturday, April 21 | 4:15-5:45 PM
Kazim Ali, Ellen Bass, Terisa Siagatonu
In addition, Los Angeles Times Book Prize finalists Evie Shockley and Shane McCrae
will participate in this year's Los Angeles Times Festival of Books, April 21–22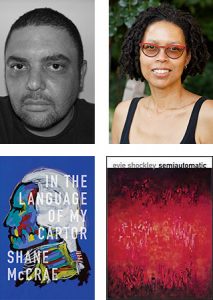 Shane McCrae
Saturday, April 21 • 11:20am—11:40am
Shane McCrae reading from "In the Language of my Captor"
More info here…
Saturday, April 21 • 2:00pm–3:00pm
Poetry: Trauma and the Problem of Beauty, Conversation 1043
Moderated by David Baker
Speakers include Alessandra Lynch, Shane McCrae, Carol Muske-Dukes, and Patricia Smith
More info here…
Evie Shockley
Saturday, April 21 • 11:00am–12:00pm
Poetry: Self, Cultural Narratives, and Form, Conversation 1041
Moderated by Cyrus Cassells
Speakers include Mary Jo Bang, Christopher Merrill, Evie Shockley, David St. John
More info here…
Saturday, April 21 • 2:40pm–3:00pm
Evie Shockley reading from "semiautomatic"
More info here…