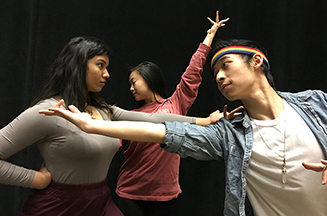 Entering the Cross Street Dance Studio at Wesleyan University, May 7, 2018 for the Bharata Natyam III performance, there are folded chairs along the studio's back wall and red cushions evenly spaced on the floor. Filling in with Bharata Natyam I students, Wesleyan faculty, friends, and family, the audience reaches the edge of the stage's bounds. In rhythmic step, the three students of Hari Krishnan's Bharata Natyam III class enter the studio and introduce the program of five dances: Alarippu, Jatisvaram, Svarajati, Padam, and Tillana. The lights shift to a soft blue hue like the night sky and the performance commences.
Portraying the erotic desires of a lover praying to Lord Krishna, the five dances choreographed by Professor Hair Krishnan, culminate in a series of unified movements followed by interpretive solos by each dancer, capturing the emotions, Shringara, Bhayanaka, and Shanta.
Bharata nātyam is a form of classical South Indian dance, which has been a part of the international stage since the mid-nineteenth century, yet has seen an accelerated circulation since the late twentieth century. Recognizing the importance of this art form, Wesleyan University Press has published multiple titles addressing the dance form, its artists, and visual-vocal practices.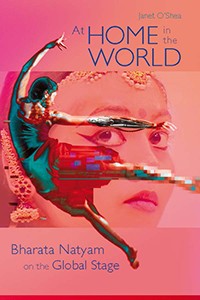 In At Home in the World: Bharata Natyam on the Global Stage by Janet O'Shea, the globalization of the classical form and its adaptations alongside social movements and questioning of tradition is brought to the forefront. Written as an introduction of the form's history for new learners, At Home in the World, pushes against the rigidity of tradition and invites transformation of form.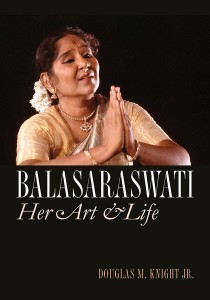 Widely considered one of the greatest performance artists of the twentieth century and the greatest living dancer of traditional bharata nātyam of her time, T. Balasaraswati was an unforgettable dancer, musician, and teacher whose influence on the western stage is still prevalent today. Since her and her family's artist residencies at Wesleyan University during the 1960s and 1980s, bharata nātyam remains a staple of the dance department, inspiring the innovative choreography of today's dancers. The first of its kind, the deeply engaging biography, Balasaraswati: Her Art & Her Life by Douglas M. Knight Jr., writes of T. Balasaraswati (his mother-in-law) and her family's artistry as a force which brought the tradition of southern India to the western stage.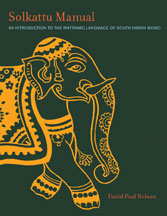 Written from the musician's perspective, Solkattu Manual: An Introduction to the Rhythmic Language of South Indian Music by Professor David P. Nelson of Wesleyan University, is a nod to the complexity of bharata nātyam as not only a dance form, but a visual and audio-engaging art form. Paired with 150 video lessons, Solkattu Manual is the first immersive hands-on introduction to South Indian music and rhythm of its kind. A more advanced study guide, Konnakkol, will be available from Wesleyan in 2019.