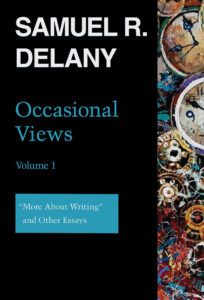 Samuel R. Delany is an acclaimed writer of literary theory, queer literature, and fiction. His "prismatic output is among the most significant, immense and innovative in American letters," wrote the New York Times in 2019; "Delany's books interweave science fiction with histories of race, sexuality, and control. In so doing, he gives readers fiction that reflects and explores the social truths of our world." This anthology of essays, lectures, and interviews addresses topics such as 9/11, race, the garden of Eden, the interplay of life and writing, and notes on other writers such as Theodore Sturgeon, Hart Crane, Ursula K. Le Guin, Holderlin, and a note on—and a conversation with—Octavia Butler. The first of two volumes, this book gathers more than twenty-five pieces on films, poetry, and science fiction. These sharp, focused writings by a bestselling Black, gay author are filled with keen insights and observations on culture, language, and life.
"Occasional Views, Volume 1 is an incredibly generous entry point to Samuel R. Delany's pioneering insights about the intersections of genre, race, sexuality, Science Fiction and what it means to live through and amongst those categories. As he states, 'What we need is not so much radical writers as we need radical readers!' This collection helps us satisfy that deeply necessary and timely cultural need."
—Louis Chude-Sokei, author of Floating In A Most Peculiar Way: A Memoir
"By turns gutsy and erudite, challenging and gracious, Delany's _Occasional Views_ gives illuminating glances of his mind's life journey.  How lucky we are to have these proofs of the resonant truths he has discovered along the way!"
—Nisi Shawl, author of Everfair
SAMUEL R. DELANY (Philadelphia, PA) has won four Nebula awards and two Hugo awards. He is the author of more than 40 books, including Dhalgren and Times Square Red / Times Square Blue.