Alvin Lucier's Music 109: Notes on Experimental Music. is now available in paperback!
Lucier's new CD was recently reviewed by Robert Carl for Fanfare Magazine. Carl wrote: "Lucier has fruitfully pursued his passion for a uniquely personal form of research and experiment over the decades. He could have been a 'one-hit wonder,' but definitely was (and is) not. This is another I'd love for the Want List, though by now the waiting room is getting crowded. Highly recommended, and even those who think they won't like it should confront this. It's bracing, and one hears everything differently, and fresher, afterwards."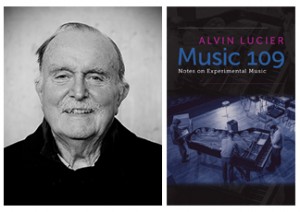 Composer and performer Alvin Lucier brings clarity to the world of experimental music as he takes the reader through more than a hundred groundbreaking musical works, including those of Robert Ashley, John Cage, Charles Ives, Morton Feldman, Philip Glass, Pauline Oliveros, Steve Reich, Christian Wolff, and La Monte Young. Lucier explains in detail how each piece is made, unlocking secrets of the composers' style and technique. The book as a whole charts the progress of American experimental music from the 1950s to the present, covering such topics as indeterminacy, electronics, and minimalism, as well as radical innovations in music for the piano, string quartet, and opera. Clear, approachable and lively, Music 109 is Lucier's indispensable guide to late 20th-century composition. No previous musical knowledge is required, and all readers are welcome.
For more details, click here.
Also available as an ebook—check with your favorite ebook retailer.
This project is funded by the Beatrice Fox Auerbach Foundation Fund at the Hartford Foundation for Public Giving.