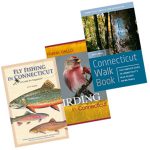 Walk, fish, bird, or fly? Connecticut has it all. The weather is warming, we've been cooped up by social distancing, and Governor Ned Lamont has opened inland trout fishing season early to ease the crowding typical on normal opening day.
As stated on Connecticut's DEEP website, "Governor Lamont is urging all Connecticut residents to 'Stay Safe, Stay Home' to help minimize community spread of COVID-19. The trails and grounds of Connecticut State Parks and Forests are open for solitary outdoor enjoyment. If you plan on visiting a park, it should be for solitary recreation, not group activities. Please plan ahead as many amenities and indoor facilities are closed, and visitors are encouraged to follow these guidelines to enhance social distancing."
Read about steps to enhance "social distancing" when enjoying the outdoors here.
Wesleyan University Press has a few books to help guide you in your outdoor adventures. Wesleyan published the 20th edition of Connecticut Forest and Park Association's Connecticut Walk Book. We also offer Birding in Connecticut, your definitive guide on where and when to find your favorite birds. And, if you've been meaning to pick up that fly fishing rod, now is your chance. Let Kevin Murphy guide you through Fly Fishing in Connecticut. 
We are offering a 40% discount when you order through our distributor, Hopkins Fulfillment Services (HFS). Enter code QAWP20 when you check out at their site. Our warehouse is open and books are shipping. The code is also good for eBook purchases of Wesleyan titles through HFS.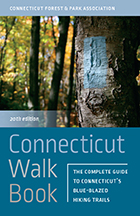 Lace up your boots and experience some of the best hiking in New England! The 20th edition of the Connecticut Walk Book is a comprehensive guide to over 825 miles of Blue-Blazed Trails in Connecticut, maintained by the Connecticut Forest and Park Association (CFPA).  It includes detailed, full color maps, mileage/destination tables, and a lay flat design for ease of use. The Connecticut Walk Book also offers descriptions of the hikes with maps and trip-planning essentials.
"The Connecticut Walk Book is the one essential guide for hikers. Great maps and concise, clear, accurate text give you everything you need to explore the state's wonderful network of major trails… It is truly a must-have."
—Steven Grant, Hartford Courant nature columnist
"Whether you aim to hike, walk, amble, jog, meander, scamper or scramble, the Connecticut Walk Book will help you set your feet on the right path…"
—Judy Benson, Staff writer and health-environment reporter at The Day (New London, CT)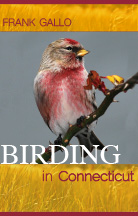 Birding in Connecticut is the definitive guide to where, when, and how to find birds in the state. It's packed with information valuable to birders of all skill levels, including species accounts and a first-of-a kind list of rare bird sightings. With a host of tips and tricks to finding and identifying birds, it is the first such guide to offer QR code links to continually updated online information on the occurrence and abundance of birds at each location. Beautifully illustrated with color photographs and maps, Birding in Connecticut is the perfect companion for experts and novices alike.
 "This book is absolutely packed with useful details about all of Connecticut's best birding locations, as well as the most complete and up-to-date info on the status of Connecticut's birds, and will be an essential reference for any birder in the state."
—David Sibley, author of The David Sibley Guide to Birds
"Frank Gallo's book brims with insight and overflows with Gallo's trademark exuberance for his favorite subject. No northeastern birder's library is complete without this comprehensive guide."
—Pete Dunne, NJ Audubon's Ambassador for Birding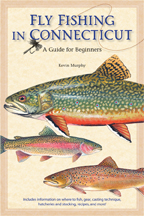 In Fly Fishing in Connecticut, long-time Connecticut resident and devoted fly fisherman, Kevin Murphy, teaches novice anglers about the state's trout hatcheries and stocking programs, the differences between brook, brown, and rainbow trout, and offers easy-to-follow instructions on the basics of fly fishing. In this concise text, the reader finds the essentials in fly fishing gear, stream tactics, casting, and a host of related topics. In addition, would-be anglers gain a useful glimpse into the history of fishing in the state, plus important tips on stream conservation, fly fishing etiquette, regulations, and safety. Most importantly, anglers will find a veritable road map to Connecticut's best trout streams and rivers. The book even offers excellent suggestions for comfortable lodging in prime fly fishing locations and—once the day's fishing is done—a few mouth-watering recipes for cooking one's catch. Whether you're in the market for that first pair of waders, thinking of tuning up your casting technique, or just want to know where the fish are biting, this is the book to read.
"Anyone fly fishing in Connecticut will profit by reading this book. It lists, in incredible detail, known and little known fishing places. Better still, there is a schedule of when to fish or avoid fishing certain streams and lakes. Murphy gives practical information about tackle and tactics. It's a complete job."
—Lefty Kreh, fly fishing guide, author, and America's best-loved casting instructor
"I've often waded into the ancient streams of Connecticut on a pristine summer or autumn day and thought, 'This is trout heaven with a New England accent.' Fly Fishing in Connecticut is the next best thing to landing a tiny mayfly on a promising riffle on one of the many promising streams of the Nutmeg State."
—Tom Brokaw, journalist