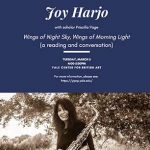 Mary Kathryn Nagle contributed a powerful original essay to introduce Wesleyan's new theater volume, Wings of Night Sky, Wings of Morning Light: A Play by Joy Harjo and a Circle of Responses. Her essay is entitled "Joy Harjo's Wings: A Revolution on the American Stage." Nagle explains how negative and demeaning representations of Native people in popular culture are not without consequence to Native people. She writes:
"Redface was purposefully created to tell a false, demeaning story. Redface constitutes a false portrayal of Native people—most often performed by non–Natives wearing a stereotypical 'native' costume that bears no relation to actual Native people, our stories, our struggles, or our survival in a country that has attempted to eradicate us. The continued dominant perception that American Indians are the racial stereotypes they see performed on the American stage is devastating to our sovereign rights to define our own identity. Of course, that's why it was invented."
Nagle is an enrolled citizen of the Cherokee Nation. She currently serves as executive director of the Yale Indigenous Performing Arts Program (YIPAP)—who are sponsoring Joy Harjo and Priscilla Page's visit to Yale on Tuesday, March 5th. She is also a partner at Pipestem Law, PC, where she works to protect tribal sovereignty and the inherent right of Indian Nations to protect their women and children from domestic violence and sexual assault. Curious to learn more about YIPAP, I asked Mary Kathryn some questions about the program, and Native theater in general. Here are her answers:
Q. How long has YIPAP been existence? Can you tell me a little about how the department came to be?
A. YIPAP was formed in 2015, following the performance of SLIVER OF A FULL MOON at Yale Law School. Professor Ned Blackhawk noted that several of the Native students were moved and inspired when they witnessed professional Native actors, alongside Native women survivors, sharing Native stories in a play. Because Native people hardly ever see authentic Native people on stage, this one performance was very impactful. Professor Blackhawk wanted to sustain this work and give students exposure to professional Native performing artists, while also assisting with the development of Native artists more broadly in the field. This is the work YIPAP has been dedicated to.
Q. What do you envision for YIPAP, moving forward?
A. We hope to expand our programing and partnerships in order to bring more Native artists to college campuses and tribal communities to work directly with youth.
Q. What would you like to say about "Native Theater" as a concept? Misconceptions? Relevancy? How long it's actually been around? How is it different than Non-Native theater?
A. I think the biggest misconception today about Native theater is that somehow our stories do not appeal or are not relevant to non-Natives. Powerful stories are powerful stories. Good stories are good stories. Just like the stories of ALL of the other communities that comprise the United States today, our stories are universal in their humanity and always relevant to the issues everyone faces today.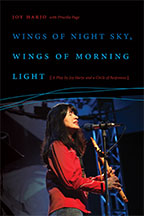 Nagle has authored numerous briefs in federal appellate courts, including the United States Supreme Court. She studied theater and social justice at Georgetown University as an undergraduate student, and received her JD from Tulane University Law School, where she graduated summa cum laude and received the John Minor Wisdom Award. She is a frequent speaker at law schools and symposia across the country. Her articles have been published in law review journals including the Harvard Journal of Law and Gender, Yale Law Journal (online forum), Tulsa Law Review, and Tulane Law Review, among others. Nagle is an alum of the 2012 Public Theater Emerging Writers Group, where she developed her play Manahatta in Public Studio (May 2014). Productions include Miss Lead  (Amerinda, 59E59, January 2014) and Fairly Traceable  (Native Voices at the Autry, March 2017). Upcoming productions include Arena Stage's world premiere of Sovereignty, Oregon Shakespeare Festival's world premiere of Manahatta, and others.