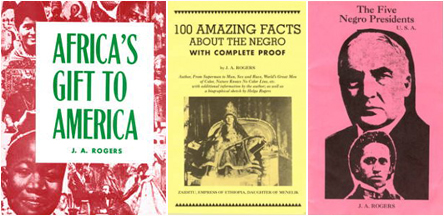 "Perhaps his most unique achievement [was] the fact that with little more than a high school education, [Rogers] was able to perfect an orthodox history methodology."
                                                 –Bilalian News, August 1976
The Wesleyan University Press is pleased to announce that we are now distributing a collection of books by J.A. Rogers, originally published by Helga M. Rogers. Joel Augustus Rogers (1880–1966) was a Jamaican-American author, journalist, and a self-taught historian who made great contributions to the history of Africa and the African diaspora, with a focus on the history of African Americans in the United States. His research spanned the fields of history, sociology, and anthropology–challenging prevailing ideas about race and demonstrating a connection between civilizations. Rogers was instrumental in popularizing African history and tracing African achievements. He revolutionized the telling of African history by addressing the lack of science behind many assumptions about "race," as well as the dearth of black historians researching and telling their own histories.
Wesleyan University Press  is now distributing eight of his titles: 100 Amazing Facts About the Negro with Complete Proof, Nature Knows No Color Line, Africa's Gift to America, Sex and Race Volume 1, Sex and Race Volume 2, and Sex and Race Volume 3, The Five Negro Presidents, and From "Superman" to Man.