Today's Throwback Thursday images are from the book Heroes for all Time: Connecticut Civil War Soldiers Tell Their Stories. These photographs depict two rather young Union "soldiers".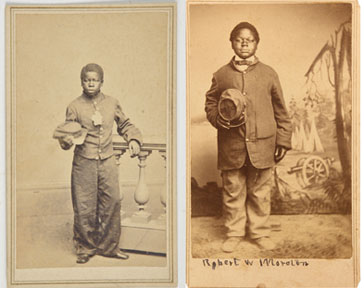 The name of boy on the left has been lost to history. He was most likely a former slave who sought shelter with Union soldiers. Many such boys and young men became servants to Union soldiers—cooking, washing clothes, cutting wood, and tending to gear. Some traveled North after the close of the war, to continue working as attendants in the homes of returning soldiers. On the right is Robert Morton, who worked as a servant for Union soldier Robert Potter during the war. As with many African American people who hired themselves to Union soldiers, little is known of his life.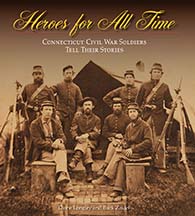 Nationwide, and in Connecticut, Sesquicentennial Commemorations of the Civil War are Winding Down.
Wesleyan author Matthew Warshauer has played a large role in the Commemoration efforts here in Connecticut. He is co-chair ofthe Connecticut Civil War Commemoration Commission, author of Connecticut in the American Civil War, and editor of Inside Connecticut and the Civil War. The authors of Heroes for All Time will be at both of the Connecticut events listed below, answering questions about Connecticut soldiers and signing copies of their book—which if full of interesting stories such as those of the two boys photographed above.
August 29th & 30th
After four years of amazing events and an impressive range of new scholarship and understanding of Connecticut's important role in the Civil War, the Civil War Commemoration is coming to a close during the last weekend of August, 2015. You can join the Connecticut Civil War Commemoration Commission at scenic Bauer Park (Madison, CT) for the final Commission sponsored encampment of the 150th anniversary commemoration. The event will feature hundreds of re-enactors and displays. Be there for the last great battle on Saturday and the official closing ceremonies on Sunday. You can find more information here.
September 12th
Join the Middlesex County Historical Society for a day of history, music, and remembrance in the back yard of the General Mansfield House. The featured speaker will be Edward Ball, acclaimed author of Slaves in the Family, winner of the National Book Award. Tom Callinan, Connecticut's first State Troubadour, will be on hand to sing popular songs from the Civil War era, as well as original compositions. Re-enactors will portray civilians and soldiers from Company F of the 14th CVI. They will demonstrate camp life including drills, cooking over campfires, and other activities necessary to the operation of an army of the period. You can find more information here.