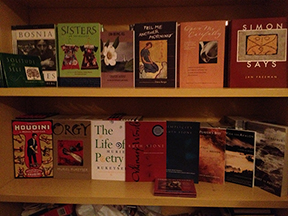 View a list of Paris Press books now available through Wesleyan. 
Paris Press and Wesleyan University Press are pleased to announce Wesleyan's acquisition of Paris Press. As of May 1, all Paris Press books will be available through Wesleyan University Press and its distributor, University Press of New England. "For years, readers have delighted in the books published by Paris Press. What an opportunity, to bring on board books by such luminaries as Virginia Woolf, Emily Dickinson, Bryher, and Muriel Rukeyser," says Wesleyan University Press director Suzanna Tamminen. "Now these books and those of so many other extraordinary women writers will have a long and vital life with Wesleyan University Press. We look forward to working with each of these beautiful, courageous, and daring books and to ensuring that they continue to inspire readers."
Jan Freeman, founding director of Paris Press, comments, "I am thrilled and deeply honored that Paris Press authors and books will be part of Wesleyan University Press, a press with a great literary history, a press that I have admired for decades. This is a dream come true. Director Suzanna Tamminen will provide a welcoming home for the Paris Press list, which will forever reflect what is essential in literature. It has been a privilege to usher each Paris Press book into the world. I hope that Wesleyan will bring new audiences to these groundbreaking books and that the Paris Press family of readers, educators, and writers will continue to enthusiastically support the Paris Press at its new home."
Paris Press (1995–2018) was founded with the mission of publishing groundbreaking yet overlooked literature by women and educating the public about its books and authors. Its titles encompass many genres including essays, poetry, fiction, memoir, letters, drama, and creative nonfiction. Their common attribute is their daring—in style and in the courage to speak truthfully about society, culture, history, and the heart. Paris Press authors include Muriel Rukeyser, Virginia Woolf, Emily Dickinson, Bryher, Ruth Stone, Zdena Berger, and Elizabeth Cady Stanton.
Wesleyan University Press, based at Wesleyan University in Middletown, Connecticut, was established in 1957 and focuses on poetry, literature, music, and dance. The press's internationally renowned poetry series has the distinction of having earned five Pulitzer Prizes, two Griffin Awards, and two National Book Awards. The press's list reflects the university's commitment to boldness, rigor, and practical idealism.
Contact: Stephanie Prieto, Publicist, Wesleyan University Press  selliott@wesleyan.edu phone: 860.685.7723
Jan Freeman, Founding Director, Paris Press   jbf227@gmail.com  phone: 413.374.1799