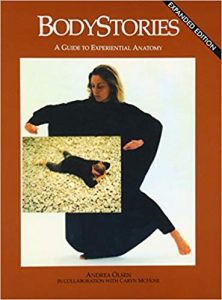 Originally published by Station Hill Opening in 1991 and University Press of New England in 1998, Andrea Olsen's Body Stories: A Guide to Experiential Anatomy aims to heighten readers' awareness of each bone in their body to show how our attitudes and approaches to our body affect us day to day. Drawing on her twenty years of experience as a dancer and teacher of anatomy, Olsen crafted thirty-one days of learning sessions in what Robert Pack called "several books in one…a remarkably lucid introduction to human anatomy…an exercise book…a sequence of prose poems about the intricate connections between the human body and the range of complex emotions that the body makes possible."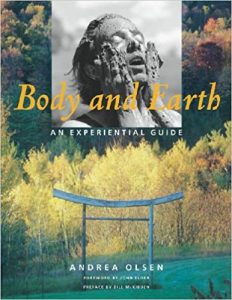 Wesleyan University Press will be publishing Body Stories and Olsen's second book Body and Earth: An Experiential Guide (University Press of New England, 2002) in February of 2020. Olsen, a professor of environmental studies as well as dance, integrates the study of environmental science, biology, meditation, anatomy, and ecology in this holistic guide. Through exercises for both exploring the body and connecting with place, Body and Earth considers the question of how we can best, most responsibly inhabit our bodies and our planet. Illustrations and works of art illuminate each chapter's themes and Olsen's own meditations and reflections connect the topics to her personal history and experience.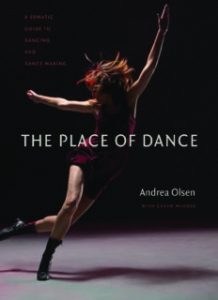 In 2014, Wesleyan University Press published Andrea Olsen's third book The Place of Dance: A Somatic Guide to Dancing and Dance Making, an essential guide to embodied awareness. The third in her trilogy of works about the body, this workbook integrates experiential anatomy with the process of moving and dancing, with a particular focus n the creative journey involved in choreographing, improvising, and performing for the stage.
ANDREA OLSEN is professor of dance and faculty member in the Environmental Studies Program at Middlebury College. She also performs, teaches yoga and creative writing, and offers workshops worldwide. Her recent projects include continuing the Body and Earth: Seven Web-Based Somatic Excursions film project with Scotty Hardwig and Caryn McHose and performing "Awakening Grace: Six Somatic Tools".