We are pleased to announce that Citizen Azmari: Making Ethiopian Music in Tel Aviv, by Ilana Webster-Kogen is the recipient of Society for Ethnomusicology's 2019 Publication Prize given by the Special Interest Group of Jewish Music.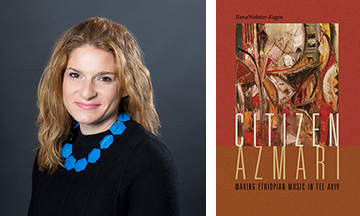 From the judging committee citation:
"Citizen Azmari shines new light on a Jewish people who exist at many margins: the margins of Israeli society, the margins of Ethiopian society, and, frankly, the margins of many people's awareness of the Jewish world. Webster-Kogen challenges notions of Jewishness, of Israeli-ness, and of global blackness, showing how Ethiopian-Israelis move within all of these groups and create complex webs of belonging through musical performance.  In addition to its contents, the committee also appreciated the writing. Simply put, we all found it highly readable, and in fact enjoyable to read."
About the book:
In the thirty years since their immigration from Ethiopia to the State of Israel, Ethiopian-Israelis have put music at the center of communal and public life, using it alternatingly as a mechanism of protest and as appeal for integration. Ethiopian music develops in quiet corners of urban Israel as the most prominent advocate for equality, and the Israeli-born generation is creating new musical styles that negotiate the terms of blackness outside of Africa. For the first time, this book examines in detail those new genres of Ethiopian-Israeli music, including Ethiopian-Israeli hip-hop, Ethio-soul performed across Europe, and eskesta dance projects at the center of national festivals. This book argues that in a climate where Ethiopian-Israelis fight for recognition of their contribution to society, musical style often takes the place of political speech, and musicians take on outsize roles as cultural critics. From their perch in Tel Aviv, Ethiopian-Israeli musicians use musical style to critique a social hierarchy that affects life for everyone in Israel/Palestine.
Ilana Webster-Kogen is the Joe Loss Lecturer (assistant professor) in the department of music at SOAS, University of London. She received her PhD in ethnomusicology there in 2011. Her work has appeared in African and Black Diaspora, Ethnomusicology Forum, and the Journal of African Cultural Studies.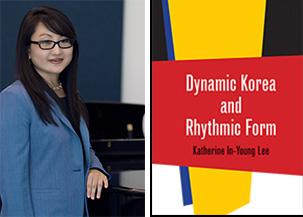 Also of interest:
Dynamic Korea and Rhythmic Form by Katherine In-Young Lee, published by Wesleyan University Press, received The Béla Bartók Award for Outstanding Ethnomusicology from ASCAP. The book explores how a percussion genre from South Korea (samul nori) became a global music genre. In it, Lee contends that rhythm-based forms serve as a critical site for cross-cultural musical encounters.