Happy Mothers Day! Wesleyan University Press is celebrating two new books about fascinating Connecticut women.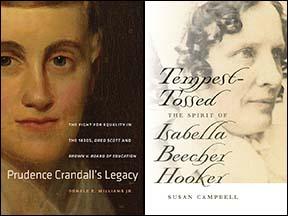 In her book Tempest-Tossed: The Spirit of Isabella Beecher Hooker, Susan Campbell tells the story of Harriet Beecher Stowe's younger half-sister. Isabella Beecher Hooker was a curiously modern nineteenth-century figure. She was a leader in the women's suffrage movement, and a mover and shaker in Hartford's storied Nook Farm neighborhood and salon. Tempest-Tossed is a breezily written, fast paced biography that reveals Isabella's more unusual traits. She was an ardent Spiritualist who could be off-putting, perplexing, and tenacious, yet wonderfully charming. Many of her contemporaries found her unapproachable and difficult to maintain a relationship with. Her "wild streak" was especially unfavorable in the eyes of Hartford society at the time, which valued restraint and duty. Pulitzer Prize winner Susan Campbell, also the author of Dating Jesus: Fundamentalism, Feminism, and the American Girl, brings her own unique blend of empathy and unbridled humor to the unique story of this unorthodox woman. Tempest-Tossed reveals Isabella's evolution from Calvinist daughter, wife, and mother, to one of the most influential players in the movement for women's suffrage. This long overdue story has found its perfect storyteller in Campbell, who captures the liveliness and spirit of this daring individual.
You can read a new short piece by Susan Campbell, "Can Mothers Get it Right? Experts Disagree," (in which another Beecher sister, Catherine, is discussed) in this Sunday's edition of the Hartford Courant.
Hot off the press is Connecticut state senator Donald E. Williams's Prudence Crandall: The Fight for Equality in the 1830s, Dred Scott, and Brown v. Board of Education. Crandall was a Connecticut school teacher dedicated to the education of African-American girls–a goal unheard of in the racist landscape of the United States of the 1830s. She ignited a firestorm of controversy when she opened Miss Crandall's School for Young Ladies and Little Misses of Color, in Canterbury. Residents of the town refused to supply Crandall with the goods necessary to run her school, even going so far as to poison the school's well water. She was ridiculed and arrested, but only closed her school upon the realization that the safety of her girls was at risk. Striking a balance between careful research and lively storytelling, Williams tells of Crandall's push for justice and how her struggles helped to set legal precedent. He explains the relationship between three trials brought against Crandall, for her violation of Connecticut's "Black Law," and other notable legal cases: the Amistad case, the Dred Scott decision, and Brown v. Board of Education. Williams also discusses how Crandall v. State impacts our modern interpretation of the Fourteenth Amendment.
Happy mother's day, and happy reading!