Gerald Vizenor, arguably the most prolific Native American author of our time, is on the road sharing his knowledge with audiences far and wide. After events in New York City and Minneapolis, he is gearing up for a series of readings and lectures that will take him to several European destinations and Japan in support of his new books: Blue Ravens, a groundbreaking, fact based novel of Anishinaabe soldiers in WWI,  and Favor of Crows: New and Collected Haiku.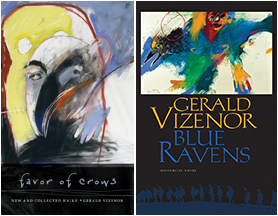 First he will visit King's College of London, where he will lead a masterclass on Native American Indians in the First World War and give a public lecture on Literary Transmotion: Native American Indian Literature of Survivance. Then, Gerald will be off to Paris, reading from his new books at Galerie Orenda, where artwork by Tony Abeyta (Navajo) and Brenda Kingery (Chickasaw) is on display in an exhibit titled "Rhythms and Colors of Native America." The next stop is the University of Vienna, for the conference "Native North American Survivance and Memory: Celebrating Gerald Vizenor."  This is the first gathering of its kind, offering a systematic look at Vizenor's poetic, fictional, theoretical, and juridical writing.  Finally, Gerald will spend time in Japan, presenting his work in a series of lectures for audiences at Keio University and at the American Center Japan. We thank Kinokuniya Bookstore for providing books at these events. 
Stay tuned…when Gerald returns to the United States he will make some stops in New England. Those details are forthcoming.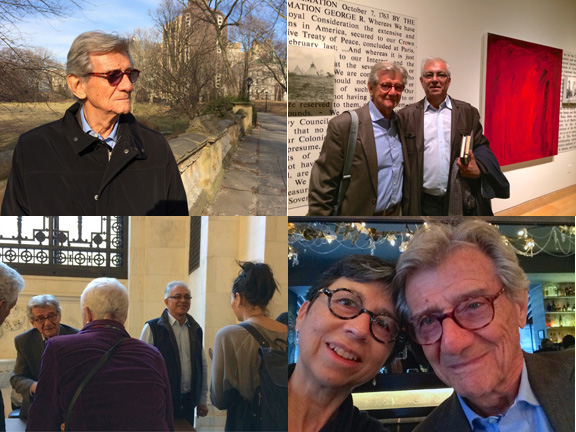 Photographs from Vizenor's visit to NMAI in New York City. Clockwise from top left: in Central Park; with esteemed artist Robert Houle, who provided artwork for Favor of Crows; signing copies of his books after the panel discussion; with his wife, Laura Hall.  Photographs courtesy of Laura Hall.