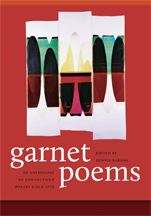 Looking for poetry to snuggle up with as the days grow shorter and temperatures dip? Want to read more Connecticut poets? Pick up Garnet Poems: An Anthology of Connecticut Poetry Since 1776, edited by Dennis Barone, featuring Robinson Jeffers, Susan Howe, Richard Wilbur, Harriet Beecher Stowe, and Wallace Stevens.
A fan of Stevens' poetry? Head over to the Hartford Public Library for the twenty-third annual Wallace Stevens Birthday Bash!
Saturday, November 3, 2018, 2:00pm
Center for Contemporary Culture
Hartford Public Library
suggested donation: $10
Featuring: Cole Swensen, presenting "Perhaps the Truth Depends"
A reception of wine and hors d'oeuvres, book signing, birthday cake, and champagne will be available.