Unique perspectives on the roots and reaches of contemporary Native Theater
"This play clearly illuminates the collective grief, disconnection, and suffering many indigenous people experience because of the brutalities of colonization. But more importantly, Joy's voice gives us strength, by reconnecting us to our ancestors, to our guardian spirits, and to each other."
— Victoria Nalani Kneuhbuhl, Pacific Island author and playwright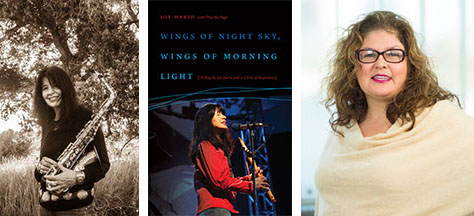 Joy Harjo and Priscilla Page will be at Yale University March 5th, 4PM. 
Joy Harjo's play Wings of Night Sky, Wings of Morning Light is the centerpiece of this stunning collection that is also comprised of essays and interviews detailing the roots and the reaches of contemporary Native Theater. Harjo blends storytelling, music, movement, and poetic language in Wings of Night Sky, Wings of Morning Light. The collection is accompanied by interviews with Native theater artists Rolland Meinholtz and Randy Reinholz, and it includes essays on Harjo's work by Mary Kathryn Nagle (an enrolled citizen of the Cherokee nation, playwright, and attorney) and by Priscilla Page (of Wiyot heritage, a writer, performer, and educator), who looks at indigenous feminism, jazz, and performance as influences on Harjo's theatrical work.
Joy Harjo is a member of the Mvskoke Nation. Her seven books of poetry, which include such well-known titles as Conflict Resolution for Holy Beings, In Mad Love and War, and She Had Some Horses. These titles and her memoir Crazy Brave have garnered many awards. Priscilla Page is a writer and dramaturg as well as a senior lecturer in the department of theater at the University of Massachusetts at Amherst.
March 5, 2019
136 pp., 6 x 9"
Unjacketed Cloth, $40.00 978-0-8195-7865-5
Paper, $15.95 978-0-8195-7866-2