When you're on a budget, why not substitute Green Date for Green Day, New2 for U2, Oasis for Oaisish, Guns and Roses for Guns2Roses, Coldplace for Coldplay, The Fillers for the Killers? Fans, drawn in by the possibility of cheap family fun, seem to agree, as BBC News reports they generate £20m to £30m each year for the outdoor festival industry.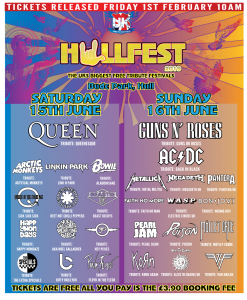 While the term cover band may elicit images of wedding bands and Vegas Elvis impersonators, musical replay is a much deeper phenomenon. Many tribute bands have been recording and performing intricately detailed covers of their favorite artists' songs for decades. Dark Star Orchestra, a tribute to The Grateful dead, have meticulously recreated live shows since 1997. Who's Bad, a Michael Jackson parody act, started performing in 2004, five years before the King of Pop passed away. The Fab Four, a Beatles tribute band, has been together for 17 years and over their career have toured internationally, played venues in Las Vegas and Disneyland, and had a PBS Special made about them.
Rod Stephens, co-founder of Bjorn Again, an ABBA parody band, said that "Given that a lot of our musical heroes are no longer with us, they'll be more tribute festivals in the future. People want that live experience, they want to see and feel what it's like to watch The Beatles or Pink Floyd up on stage." However, broadcaster and music journalist Paul Morley says that audiences are merely getting an "Aldi cut-price version of the real thing". He believes that audiences, grasping at nostalgia, are experiencing "the intense diluted version of the iconic properties of the pop star when they were at their heights".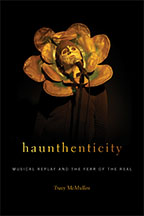 According to TRACY MCMULLEN, associate professor of American vernacular music at Bowdoin College and author of Haunthenticity: Musical Replay and the Fear of the Real, these festivals exist as a symptom of deep-seated fears of the fleeting nature of identity. When people lose touch with the exact material details of the original, for example when a band breaks up, members change, or an artist dies, they attempt to make up for the loss of identity by cloning the past and using it as a replacement.
In what Norma Coates, associate professor of music at the University of Western Ontario, called "an essential read for anyone interested in contemporary music and performance", McMullen draws on philosophy, psychology, musicology, performance studies, and popular music studies in order to analyze the rise of obsessively precise live musical reenactments in the United States at the turn of the millennium. Haunthenticity ultimately argues for a new way of conceiving subjectivity and identity within critical and cultural studies, moving beyond Western epistemologies.