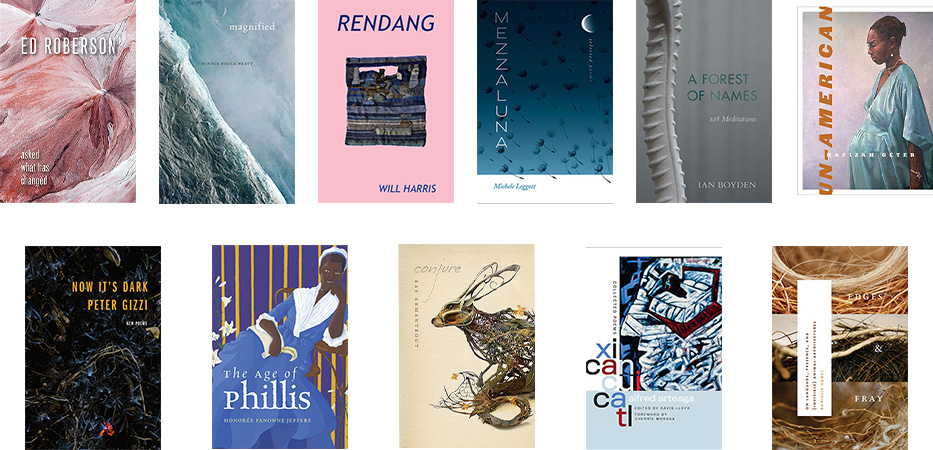 April is Poetry Month! Celebrate by checking out some of WUP's recently published collections.
In Asked What Has Changed, Ed Roberson departs from the traditional nature poem, reclaiming a much older tradition and drawing into poetry's orbit what the physical and human sciences reveal about the state of a changing world. These poems test how far the lyric can go as an answer to our crisis, even calling into question poetic form itself. Roberson was honored with a Poetry Society of America's Shelley Memorial Award and the 2016 PEN/Voelcker Award for Poetry.
In Magnified, Minnie Bruce Pratt writes a collection of love poems that draw us into the sacred liminal space that surrounds death. Even as she asks, "What's the use of poetry? Not one word comes back to talk me out of pain," the book delivers a vision of love that is boldly political and laced with a tumultuous hope that promises: "Revolution is bigger than both of us, revolution is a science that infers the future presence of us."
The poems in Now It's Dark by Peter Gizzi are concerned with grieving, with poetry and death, with beauty and sadness, with light. As Ben Lerner has written, "Gizzi's poetry is an example of how a poet's total tonal attention can disclose new orders of sensation and meaning. His beautiful lines are full of deft archival allusion."
Xicancuicatl:Collected Poems collects the poetry of leading avant-garde Chicanx poet Alfred Arteaga (1950–2008). In his five published collections, Arteaga made crucial breakthroughs in the language of poetry, basing his linguistic experiments on the multilingual Xicanx culture of the US Southwest. His formal resources and finely tuned ear for sound patterns and language play remain astonishing.
Rae Armantrout has always taken pleasure in uncertainties and conundrums, the tricky nuances of language and feeling. In Conjure that pleasure is matched by dread; fascination meets fear as the poet considers the emergence of new life (twin granddaughters) into an increasingly toxic world. Armantrout was a Finalist for Big Other Book Award and a Finalist for PEN/Voelcker Award for Poetry Collections for Conjure.
A Forest of Names: 108 Meditations Ian Boyden collaborates with artist Ai Weiwei to remember the 5,000 children killed in an earthquake in China. Each poem is a poetic meditation on the image and concept suggested by the etymology in the Chinese characters. This act of poetic translation is both a heartbreaking tribute to people whose names have been erased, and a healing meditation on how language suggests a path forward.
Dancing between lyric and narrative, Hafizah Geter's Un-American moves readers through the fraught internal and external landscapes—linguistic, cultural, racial, familial—of those whose lives are shaped and transformed by immigration. Geter weaves the natural world into the discourse of grief, human interactions, and socio-political discord. This collection thrums with authenticity and heart. Geter was recognized as a Finalist for the PEN American's Open Book Award and a Finalist for the NAACP Image Award for Poetry Collection.
Using long poems, ekphrasis, and ruptured forms, RENDANG by Will Harris is a startling new take on the self, and how an identity is constructed. It is intellectual and accessible, moving and experimental, and combines a linguistic innovation with a deep emotional rooting.
Based on fifteen years of archival research, The Age of Phillis, by award-winning writer Honorée Fanonne Jeffers, imagines the life and times of Phillis Wheatley. For the first time in verse, Wheatley's relationship to black people and their individual "mercies" is foregrounded, and here we see her as not simply a racial or literary symbol, but a human being who lived and loved while making her indelible mark on history. Jeffers is the winner of the NAACP Image Award for Poetry Collection, a Finalist for PEN/Voelcker Award for Poetry Collections, a Finalist for Los Angeles Times Book Prize and Longlisted for National Book Award.
Mezzaluna gathers work from Michele Leggott's nine books of poetry. In complex lyrics, sampling thought and song, voice and vision, Leggott creates lush textured soundscapes. Her poetry covers a wide range of topics rich in details of her New Zealand life, full of history and family, lights and mirrors, the real and the surreal.
Edges & Fray: On language,presence, and (invisible) animal characters is an embodied meditation that cultivates receptivity and deep listening to the ways we inhabit language and its ethereal resilience. Combining close observation of birds' nests and the writing process, Danielle Vogel brings the reader into communion with language as a mode of presence. Experimental and deeply grounded, its construction is intuitive and masterful, its many threads interwoven and intrinsically linked. This is a beautiful and inspiring book at the intersection of poetry, somatics, ecology, and divination.