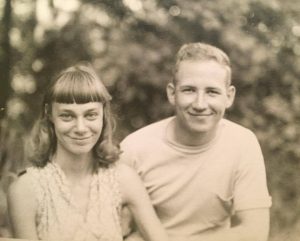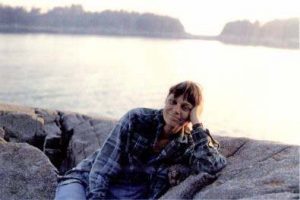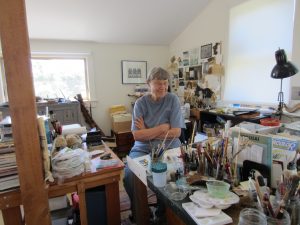 We are saddened to learn of the passing of Jo Miles Schuman, co-editor of A Spicing of Birds: Poems by Emily Dickinson. Here is a remembrance from Jo's daughter, Elisabeth:
"Jo Miles Schuman, passed away in the wee hours of Wednesday, March 17, 2021. Jo was most at home in the country, an avid bird watcher, dedicated gardener, and a passionate and perfection-driven artist. She filled our lives with stories of animals, the natural world, and the arts.
She took as much pleasure in your interests and accomplishments as in her own, and always had many projects hopping at once. Whether she was cooking up a fish dinner, spending time on her beloved island, building another bookshelf, or working on a new print in her studio, she kept incredibly busy. Two amazing traits she had were her abilities to find missing items and her ability to fix anything broken.
She will be greatly missed by her husband Howard, who just turned 93, her three children, her relatives, friends and neighbors. She was a one-of-a-kind soul."
A Spicing of Birds: Poems by Emily Dickinson is a unique and beautifully illustrated anthology, pairing poems from one of America's most revered poets with evocative classic ornithological art. Emily Dickinson had a great love of birds—in her collected poems, birds are mentioned 222 times, sometimes as the core inspiration of the poem. However, in existing anthologies of Dickinson's work, little acknowledgment is made of her close connection to birds. This book contains thirty-seven of Dickinson's poems featuring birds common to New England. Many lesser-known poems are brought to light, renewing our appreciation for Dickinson's work.