When selecting your next poetry read, consider reading work in translation.  Welsleyan has a number of volumes of poetry in translation.
Aimé and Suzanne Césaire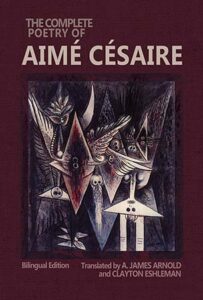 The Complete Poetry of Aimé Césaire gathers all of Cesaire's celebrated verse into one bilingual edition. The French portion is comprised of newly established first editions of Césaire's poetic œuvre made available in French in 2014, edited by AJ Arnold and an international team of specialists. To prepare the English translations, the translators started afresh from this new French edition. These translations of the poet's early work reveal a new understanding of Cesaire's aesthetic and political trajectory.
AIMÉ CÉSAIRE (1913–2008) was best known as the co-creator (with Léopold Senghor) of the concept of négritude. CLAYTON ESHLEMAN (1935–2021) was emeritus professor of English at Eastern Michigan University and the foremost American translator of César Vallejo and Aimé Césaire. His translation work earned him a National Book Award and a Griffin Poetry Prize. A. JAMES ARNOLD is emeritus professor of French at the University of Virginia. He edited A History of Literature in the Caribbean and authored Modernism and Negritude: The Poetry and Poetics of Aimé Césaire.
César Vallejo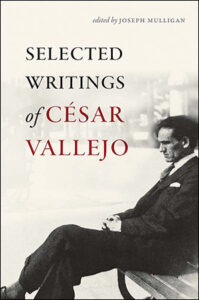 For the first time in English, readers can now evaluate the extraordinary breadth of César Vallejo's diverse oeuvre that, in addition to poetry, includes magazine and newspaper articles, chronicles, political reports, fictions, plays, letters, and notebooks. Edited by the translator Joseph Mulligan, Selected Writings follows Vallejo down his many winding roads, from Santiago de Chuco in highland Peru, to the coastal cities of Trujillo and Lima, on to Paris, Madrid, Moscow, and Leningrad. This repeated border-crossing also plays out on the textual level, as Vallejo wrote across genres and, in many cases, created poetic space in extra-literary modes. Informed by a vast body of scholarly research this author's writing puts forth a new representation of this essential figure of twentieth-century Latin American literature as an indispensable alternative to the European avant-garde. Compiling well-known versions with over eighty percent of the text presented in English translation for the first time, Selected Writings is both a trove of and tribute to Vallejo's multifaceted work. Includes translations by the editor and Clayton Eshleman, Pierre Joris, Suzanne Jill Levine, Nicole Peyrafitte, Michael Lee Rattigan, William Rowe, Eliot Weinberger, and Jason Weiss.
CÉSAR VALLEJO (1892–1938) was born in the Peruvian Andes and, after publishing some of the most radical Latin American poetry of the twentieth century, moved to Europe, where he diversified his writing practice to encompass theater, fiction, and reportage. As an outspoken alternative to the European avant-garde, Vallejo stands as one of the most authentic and multifaceted creators to write in the Castilian language.
JOSEPH MULLIGAN is a professional translator and scholar. He has translated Against Professional Secrets by César Vallejo, The Antiquarian by Gustavo Faverón Patriau, and a selection of Sahrawi poetry included in Poems for the Millennium Volume IV: The University of California Book of North African Poetry. He lives in Rochester, New York.
Bold translations by Matt Reeck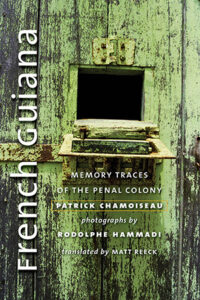 Prix Goncourt winner Patrick Chamoiseau, hailed by Milan Kundera as "an heir of Joyce and Kafka," is among the leading Francophone writers today. With most of his novels having appeared in English, this book opens a new window on his oeuvre. A moving poetic essay that bears witness to the forgotten history of the French penal colony in French Guiana, French Guiana—Memory Traces of the Penal Colony accompanied by more than sixty evocative color photographs by Rodolphe Hammadi and translated, here for the first time, deftly by Matt Reeck.
PATRICK CHAMOISEAU is an award-winning francophone author from Martinique. He is author of twelve novels, as well as several films and essays.
MATT REECK is the translator of five books and has won Fulbright, NEA, and PEN/Heim grants.
RODOLPHE HAMMADI is an award-winning French photojournalist, photographer, and sculptor.