If you've spent any time on the Internet lately, you already know about Throwback Thursday—an occasion for Tweeters, Instagrammers, and Facebookers to share with their audiences a glimpse of their past, a funny memory or a cute childhood photo.
We at WesPress thought we'd hop on this trend. After all, we have a long history—founded in 1957, with our first book published in 1959, we've been publishing great books for over half a century. So in honor of #tbt, we'll be posting poems every Thursday drawn from older Wesleyan titles, including some author favorites.
This week's selection is Adélia Prado's "Poetic License," translated by Ellen Watson, from The Alphabet in the Park: Selected Poems of Adélia Prado (1990). We would also like to congratulate Prado on her Lifetime Recognition Award from the Griffin Poetry Trust.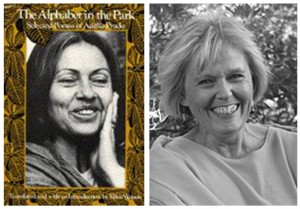 .
.
With Poetic License
When I was born, one of those svelte angels
who plays a trumpet proclaimed:
this one will carry a flag.
A heavy load for a woman,
even nowadays such a bashful species.
I accept the subterfuges that fit;
no need to lie.
I'm not so ugly that I can't get married,
I think Rio's a real knockout, and—
well, yes and no, I believe in childbirth without pain.
But what I feel, I write. I make good on the prophecies.
I establish lineages, whole kingdoms
(pain is not bitterness).
My sadness has no pedigree
but my longing for joy—
its root goes back a thousand generations.
It's man's curse to be lame in life,
woman's to unfold. I do.
.
.
ADÉLIA PRADO has authored eight volumes of poetry and seven volumes of literary prose in Portuguese. The first in her family of laborers to see the ocean or go to college, Prado has lived all her life in the provincial industrial city of Divinopolis in Minas Gerais, Brazil. She has degrees in Philosophy and Religious Education from the University of Divinópolis, and she worked for many years as a schoolteacher.
ELLEN DORÉ WATSON was hailed by Library Journal as one of "24 Poets for the 21st Century." Her collections of poetry include Ladder Music and We Live in Bodies (Alice James, 2001 and 2002), This Sharpening (Tupelo, 2006), and Dogged Hearts (Tupelo, 2010). She has also translated a dozen books. She is the Poetry and Translation Editor for The Massachusetts Review and the director of The Poetry Center at Smith College in Northampton, Massachusetts.