"A call for a 'ciné-ethnomusicology,' American Music Documentary is as much an invitation for a critical, reflexive ethno-musicology. Forging new ground in the study—and making—of music films, it is an utterly compelling read."
–Marina Peterson, author of Sound, Space, and the City: Civic Performance in Downtown Los Angeles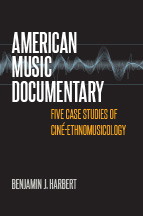 In American Music Documentary, Benjamin J. Harbert looks at five significant music documentary films. His aim "is to argue that filmmaking can be a process of understanding music and that a film can be a way of expressing that understanding." The documentaries discussed cover a wide swath of 20th century popular music, including:
Gimme Shelter
Antonia: A Portrait of the Woman
Ornette: Made in America
Depeche Mode: 101
Instrument
Harbert's work lays the foundations of "ciné-ethnomusicology," considering how visual imaginings of the artist and his/her concepts can alter, add to, or amplify the experience and understanding of the audience. Depictions of race, masculinity, and feminism are discussed in detail, exploring how filmmakers use their art to tease out and expand on some of the attitudes embedded within the work of popular musicians, and how these attitudes, or politics, are lived out on stage and in the daily lives of musicians living in the public eye.
View trailers and film footage here. 
Benjamin J. Harbert is an associate professor of music and film and media studies at Georgetown University. He is the producer and director of Follow Me Down: Portraits of Louisiana Prison Musicians and coeditor of The Arab Avant-Garde: Music, Politics, Modernity.