The imagined narratives of seven native exiles from the White Earth Nation
Gerald Vizenor creates masterful, truthful, surreal, and satirical fiction similar to the speculative fiction of Margaret Atwood and Neil Gaiman.  In this imagined future, seven natives are exiled from federal sectors that have replaced federal reservations; they pursue the liberty of an egalitarian government on an island in Lake of the Woods.  These seven narrators, known only by native nicknames, are related to characters in Vizenor's other novels and stories.  Vizenor was the principal writer of the Constitution of the White Earth Nation, and this novel is a rich and critical commentary on the abrogation of the treaty that established the White Earth Reservation in 1867, and a vivid visualization of the futuristic continuation of the Constitution of the White Earth Nation in 2034.
An online reader's companion is available at http://geraldvizenor.site.wesleyan.edu.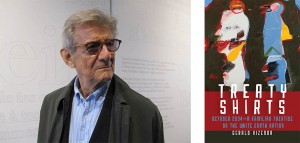 Gerald Vizenor is a prolific novelist, poet, literary critic, and citizen of the White Earth Nation of the Anishinaabeg in Minnesota. He is Professor Emeritus of American Studies at the University of California, Berkeley. His novels Shrouds of White Earth and Griever: An American Monkey King in China were both honored with the American Book Award, and the latter also received the New York Fiction Collective Award. Vizenor and his wife, Laura, now live in Naples, Florida, making regular visits to both Minnesota and France.
"In writing that's full of possibilities, Gerald Vizenor delivers to us the native world that should be."
—Diane Glancy, author of Fort Marion Prisoners and the Trauma of Native Education
"Treaty Shirts presents a masterful exhibition of the capacities of stories to create enduring images of natural reason, as it strides the shifty terrain of cultural survivance, treaty rights, and political sovereignty. Perhaps the most impressive is the way Vizenor achieves his goals, not through condemnation but through the humor of tease of stories that are the achievement of a literary artist at the height of his powers."
—Billy Stratton, author of Buried in Shades of Night
May 10, 2016
148 pp., 6 x 9"
Jacketed Cloth, $24.95 x
978-0-8195-7628-6
eBook, $19.99 Y
978-0-8195-7629-3