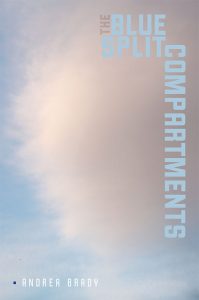 "Through a wrenching psychoanalysis of the violence of aestheticization, Andrea Brady brings her intelligence and grief to the ways in which pastoral ethics implicate both drone attack and lyric poem. In a time of mediatized intimacy and shut borders, this work crucially undermines the authority of distances."—Lisa Robertson, author of Nilling: Prose Essays
"Word by affecting word, image by terrifying image, these powerfully harrowing poems tell the story of modern imperial warfare, hellish technologies of death, and unacknowledged faraway victims."  —Laleh Khalili, author of Time in the Shadows: Confinement in Counterinsurgencies
The Blue Split Compartments is a complex and powerful sequence of lyric poems exploring how the physically intimate relationships between military drone operators and their victims are mediated, not only through the technological interfaces of the screen and drone, but also through language and subjectivity. Drawing on chatroom logs, military policy manuals, pattern of life archives, and accounts by witnesses around the world, these poems document the consequences of the perpetual and 'everywhere war' conducted from remote airbases, where pilots in shipping containers surveil and destroy remote 'objects'. Brady's approach offers a sophisticated interplay of diction, rhetoric, syntax, positioning, allusion, and sonic quality that generates legible currents of meaning and orientation. Entire countries have been turned into 'open air prisons', where the buzzing of drones overhead induces profound trauma and changes to social life. These poems strafe a documentary history of drone warfare with personal memory, and reflections on the myths and mechanics of prosthetic violence, voyeurism, masculinity, and desire. The Blue Split Compartments is a bitter comedy in drone erotics, a devastating reach into the twisted soul of murderous techno-surveillance regimes, a linguistically virtuosic and deeply humane x-ray of the discursive and militaristic systems that join us in mutual dissolution. Check out a sample poem below:
from the poem entitled "Opened", The Blue Split Compartments
This is the box, frozen against hierarchy
at a value of some $10m, simply a form of being;
surgeon's box, patient's wound,
an idea of enclosure that can fit any medium.
The gaze is on the side of things.
…
The angel of evil could not have done that.
A child is in heaven. The box is empty,
saying nothing but "construction." It really is
like swatting flies; we can do it forever
easily and you feel nothing.
ANDREA BRADY is an American poet and lecturer at Queen Mary University of London. She is the author of seven books of poetry including The Strong Room and three books of criticism including Poetry and Bondage: A History and Theory of Lyric Constraint.