Wesleyan is pleased to announce that BLUNT RESEARCH GROUP's The Work-Shy is now available in paperback!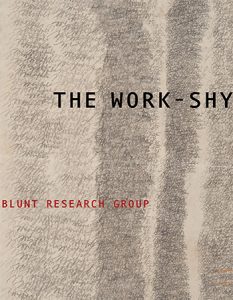 Activating what poet Susan Howe calls "the telepathy of the archive," these poems of The Work-Shy occupy identities rooted in the demimonde and in places of confinement; they build portraits of individuals at once denied work and subjected to its punishing routine. As "translations" of apparently unredeemable texts, the poems convert the dubious paradigms of delinquency, degeneracy, and madness into a mutable archive of infidel culture. Published under the collective, anonymous signature of the BLUNT RESEARCH GROUP, the archival work of "atavistic clairvoyance" retains the proper name of every voice it hears. By converting the procedures of appropriation and sampling into a poetics of close listening, The Work-Shy operates at the crossroads of lyric and documentary poetries, of singularity and collectivism. An online readers companion is available at bluntresearchgroup.site.wesleyan.edu and a book trailer can be found below:
BLUNT RESEARCH GROUP is a nameless constellation of poets, artists, and scholars from diverse backgrounds.  Drawing on examples of anonymous collectives in the arts, BLUNT RESEARCH GROUP presumes that the forging of individual voices in poetry is collaborative by nature, and it challenges the convention of the single author by using a collective signature. Work by BLUNT RESEARCH GROUP has been published by Noemi Press and appeared in museums across the country.
This project is supported in part by an award from the National Endowment for the Arts.
Praise for The Work-Shy:
Selected by Yale Review as one of the "best first books" of 2016.
"Herein are the voices of children sacrificed to the barbaric dogmas of eugenics and conformity; an archaeology of inhumanity that should haunt us forever."—Mike Davis, author of City of Quartz
"A stunning collection of poems…The Work-Shy exemplifies some of the most important work poetry can do—to create the space to notice those who have been disparaged, muted, and trapped."—Emma Schneider, Full Stop
"The language of The Work-Shy cuts straight through, as sharp and alive as the eyes that peer out from its photographs."—Carmen Gimenez-Smith, author of Milk and Filth
"The Work-Shy tears out pages from the bleak archives of California's founding to reveal the hidden schematic—an exploded view—of white supremacy's moving parts…a sonic tour de force."—Henk Rossouw, Boston Review
"What is new in The Work-Shy is its authors' articulation of a poetics of listening. Whether it is possible for texts to listen, what even precisely it would mean, is rightly left unresolved."—Eli Mandel, MAKE Magazine
"The Work Shy documents moments in time that resonate with us still, as each breathes up through history like an iron shackle around the leg. A heartbreaking and necessary read."—Dawn Lundy Martin, author of Life in a Box is a Pretty Life

October 2, 2018
160 pp.,7 x 9"
Paper, $14.95 978-0-8195-7861-7
Jacketed Hardcover, $24.95 978-0-8195-7678-1
Ebook $18.99 978-0-8195-7679-8