Wesleyan University Press has decided it is best for us to bow out and not attend the 2020 AWP conference. We are truly saddened to miss an event that is one of the highlights of our year. It always seems fitting to begin the spring with this wonderful event to celebrate authors and new literature. We thank all of the AWP organizers for dealing with an unprecedented situation. To call it difficult for them is an understatement. We wish that all of the ongoing participants have a wonderful conference. We hope that you consider supporting your favorite authors and presses who were unable to attend. Check out the #AWPVirtualBookfair hashtag.
We are offering a 40% discount off of our books until 6/30/20, to honor our conference discount. When you check out at HFSBooks.com, use discount code QAWP20 on any Wesleyan title.
We will have a number of new poetry collections The Age of Phillis by Honorée Fannone Jeffers, Atopia by Sandra Simonds, Edges & Fray by Danielle Vogel, The Poetry Witch Little Book of Spells by Annie Finch, Frayed Light by Yonatan Berg, and Mezzaluna by Michele Leggott, The Collected Poems of Lorenzo Thomas edited by Aldon Lynn Nielsen and Laura Vrana, and a new volume in our popular American Poets series, North American Women Poets in the 21st Century: Beyond Lyric and Language edited by Lisa Sewell and Kazim Ali
Be sure to join Carnegie Mellon University Press and Akron University Press for poetry reading, on Wednesday, March 4th, 8 to 9:30 pm at La Villita Cafe, a short walk from the conference center. Readers include  Hayan Charara, Dora Malech, Bridget Lowe, Rebecca Morgan Frank, Virginia Konchan, Annah Browning, Emily Corwin, and Oliver de la Paz. Free appetizers will be available while supplies last.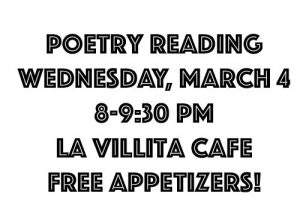 [This post was updated on March 3, 2020]