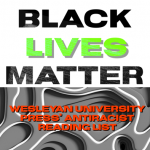 To celebrate the continuous struggle for freedom and equality in America, Wesleyan University Press has compiled a few antiracist reading lists in order to amplify BIPOC (Black, Indigenous, and People of Color) voices, experiences, and histories. Below are just a few of the fantastic titles Wesleyan University Press has published by BIPOC authors or about the Black historical legacy. Poetry, music and dance, autobiography, science fiction, historical novels, and more show the breadth of these lyrical, literary, and scholarly contributions. We are dedicated to supporting Black authors and stories, to listening and learning through publishing and reading. This moment is highlighting just how much work there is to be done in order to dismantle systemic racism in our country; these books help show us why that work is so important and how we can begin to integrate it into our daily lives and reading practices. Black lives matter!
To order books and view our full list of titles, please visit https://www.hfsbooks.com/publishers/wesleyan-university-press/ or click on the below cover images to visit a book page directly. And don't forget to look out for Beyoncé in the World: Making Meaning with Queen Bey in Troubled Times edited by Christina Baade and Kristin McGee– forthcoming in Spring 2021!
The following list includes poetry, science fiction, historical novels, and non-fiction.