We are pleased to announce that In Defense of Nothing: Selected Poems, 1987-2011 by Peter Gizzi is now available in paperback.
Since his celebrated first book of poetry, Peter Gizzi has been hailed as one of the most significant and distinctive voices writing today. Gathered from over five collections, and representing close to twenty-five years of work, the poems in this generous selection strike a dynamic balance of honesty, emotion, intellectual depth, and otherworldly resonance—in Gizzi's work, poetry itself becomes a primary ground of human experience. Haunted, vibrant, and saturated with luminous detail, Gizzi's poetry enlists the American vernacular in a magical and complex music. In Defense of Nothing is an immensely valuable introduction to the work of this extraordinary and singular poet.
Check for the online reader's companion at indefenseofnothing.site.wesleyan.edu.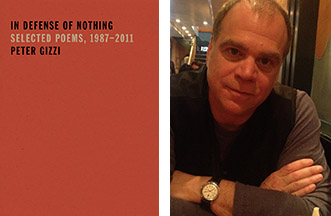 Peter Gizzi is the author of Threshold Songs, The Outernationale, Some Values of Landscape and Weather, Artificial Heart, and Periplum. He teaches at the University of Massachusetts, Amherst.
Praise for In Defense of Nothing:
"Peter Gizzi's poetry at once captures the deadening, and the standardization of our culture and wakes us up, makes us 'silly with clarity.' Through his poetry we become almost painfully attuned to the present. He can name with precision our medicated, mediated insensibility and then startle us out of anesthesia with the beauty of his singing. Gizzi can move from the ghostly, flickering edge of perceptibility to focused intensity at disorienting, Dickinsonian speed. His poetry is an example of how a poet's total, tonal attention can disclose orders of sensation and meaning. His beautiful lines are full of deft archival allusion, and his influences range from Simonides to Schuyler, but those voices, those prosodies, aren't ever decorative; Gizzi is gathering from the air a live tradition."
—Ben Lerner
This project is supported in part by an award from the National Endowment for the Arts.
From the book:
So the bird's in the hand
and now what?
The penny shiny
in the dark belly of mr. piggy.
The day dawns and dawns
and may be in trouble
of actually going anywhere.
Trees migrate secretly up-
ward. They might be saying
all we need to be here
if we would only stop
talking and listen up.
I love you, said the wood.
One sonic color into
the egregious public air.
Start from nothing and be-
long to it. The signal
and its noise -itsy,
-ancy, -oid.
So many strangers
alive in a larynx.
So much depends on X
so much more
on the book in your hand.
Start from nothing
and let the sound reach you.
from "The Outernationale"