"Robert Ryan: An Actor's Actor"
Special screenings of films featuring Robert Ryan
Sept. 4–10 @ Anthology Film Archives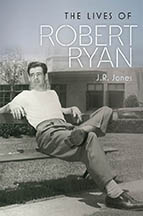 A six-film Robert Ryan retrospective
in conjunction with The Lives of Robert Ryan (Wesleyan UP)
From September 4–10, Anthology Film Archives in New York will celebrate publication of The Lives of Robert Ryan with the retrospective series "Robert Ryan: An Actor's Actor." The series collects six of the most arresting screen performances by this gifted artist and activist, whom Martin Scorsese called "one of the greatest actors in the history of American film." Select screenings will feature discussions with author J.R. Jones, film editor for the Chicago Reader, and Robert Ryan's son, Cheyney Ryan, professor of law and philosophy at the Oxford Institute for Ethics, Law and Armed Conflict at Oxford University.
The son of a Chicago construction executive with strong ties to the Democratic machine, Robert Ryan became a star after World War II on the strength of his menacing performance as an anti-Semitic murderer in the film noir Crossfire. Over the next quarter century he created a gallery of brooding, neurotic, and violent characters in such movies as Bad Day at Black Rock, Billy Budd, The Dirty Dozen, and The Wild Bunch. His riveting performances expose the darkest impulses of the American psyche during the Cold War.
At the same time, Ryan's marriage to a liberal Quaker and his own sense of conscience launched him into a tireless career of peace and civil rights activism that stood in direct contrast to his screen persona. Drawing on unpublished writings and revealing interviews, Jones deftly explores the many contradictory facets of Ryan's public and private lives, and how these lives intertwined in one of the most compelling actors of a generation.
Jones has recently spoken about The Lives of Robert Ryan at the Arthur Lyons Film Noir Festival in Palm Springs and at the Printers Row Lit Fest in Chicago. At the Music Box Theatre in Chicago, he presented a screening of Ryan's boxing classic The Set-Up and took part in a discussion with Lisa Ryan, the actor's daughter. The Lives of Robert Ryan is the featured book for July on Turner Classic Movies.
J.R. JONES is film editor for the Chicago Reader, where his work has appeared since 1996 and won multiple awards from the Association of Alternative Newsmedia. A member of the National Society of Film Critics, Jones has also published work in the Chicago Sun-Times, New York Press, Kenyon Review, and Da Capo Best Music Writing 2000, edited by Peter Guralnick.
CHEYNEY RYAN is Human Rights Program Director at the Oxford Institute for Ethics, Law and Armed Conflict at Oxford University, where he is engaged in a multi-year project exploring the relation of pacifism and nonviolence to contemporary just war theory. He has also taught at Harvard Law School, Northwestern University, and University of Oregon, where he is a professor emeritus. His most recent book is The Chickenhawk Syndrome: War, Sacrifice, and Personal Responsibility.
ANTHOLOGY FILM ARCHIVES is an international center for the preservation, study, and exhibition of film and video, with a particular focus on independent, experimental, and avant-garde cinema. AFA maintains a reference library containing the world's largest collection of books, periodicals, stills, and other paper materials related to avant-garde cinema. It screens more than 900 programs annually, preserves an average of 25 films per year, publishes books and DVDs, and hosts numerous scholars and researchers.
Praise for The Lives of Robert Ryan:
"A masterly biography that portrays an actor devoted to his craft and dedicated to his personal convictions." –Richard Dickey, Library Journal
"J.R. Jones in his excellent biography shows what a fascinating career [Ryan's] was—complicated, contradictory, accidental. . . . As Jones demonstrates at considerable length, [Ryan] was a man of liberal principle and moral courage." –Philip French, Sight & Sound 
"J.R. Jones's meticulous, revealing book on Robert Ryan places the actor's life and career against the turbulent politics of the Cold War and the red scare in Hollywood. Jones is especially adept in moving between the life and the work, the films and their contexts. He introduces political history throughout, in ways that are both relevant and revelatory." –Foster Hirsch, author of The Dark Side of the Screen: Film Noir
"As self-effacing yet as solid and as ethically engaged as Robert Ryan himself, J.R. Jones offers a comprehensive and sensitive chronicle of one of the giants of American movie acting." –Jonathan Rosenbaum, author of Movie Wars