When asked about her favorite poems, Brenda Hillman replied with "The Life is Preserved," by Jameel Din, from the 1987 California Poets in the Schools statewide anthology, Thread Winding in the Loom.
---
I let the request slide for a while through neurotic indecision, then thought about poems I've enjoyed for a long time. One of the poems I've had on my wall for several decades was written by a child, Jameel Din, who was a student at Lakeshore School in San Francisco in the 1980s. I came across the poem in a Poets-in-the-Schools publication; Jameel's teacher at the time was Grace Grafton. I wrote asking Grace for more information about the poem and she responded in an email: "Jameel's poem was published in the 1987 California Poets in the Schools statewide anthology, Thread Winding in the Loom… each year CPITS publishes [the] anthology which features the best student poems, some poet-teacher poems and essays on teaching poetry by a few poet-teachers…" She noted that for almost 30 years she was active as a California Poets in the Schools poet-teacher, adding that she taught 5–15 poetry sessions in all grades 1–5. Because of the anthology, Grace wrote, "every kid I worked with had a poem 'published'…Jameel was in fifth grade when 'The Life is Preserved' was published, about 10 years old, so he must be about 40 now…I probably taught him when he was in 4th grade also."  Many thanks to Grace for all her work as a teacher and poet, thanks to CPITS and to all those poet-teachers out there.
Jameel's featured poem goes like this:
THE LIFE IS PRESERVED 
The life is preserved
in itself, that is how
we are in existence. The
characters in nature exist
in a pattern. That is the
way it is meant to be.
Of the window we see
through, many portions are
left to fill in. Many seasons
will pass. Life will preserve
itself any way it can.
That is self-being. Time
is also preserved in itself.
Ancestors will be in their
time as will others. Many
squirrels will walk in the
distance. They are brown as
the trunks of tress in daylight.
The rabbits of the night
are near to the meadow.
They are near to all life.
The calls of the great ones
are of much power. The life
is preserved in itself, that
is how we are in existence.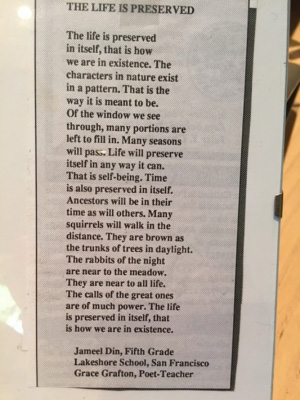 There are many things I love about this poem: its philosophical efficiency; the plain diction (reminiscent of W.C. Williams); its combination of intimacy and detachment;  the short, linked sentences placed in lines with wandering caesuras; and most significantly, its tone and range.  This poem is not "spiritually bossy" the way some contemporary poems are, but instead demonstrates both assertiveness and openness. Its many ragged enjambments create a vibrant receptive music; the lines that end in "the" remind me of Oppen or Creeley, though Jameel's declarative statements are not "oblique" in the way their sentences can be, enacting a kind of solitary existential angst and dilemmas of relationship. Instead, Jameel's writing is that of a child stating the principles by which he lives and perceives the world, including the presence of ancestors with power, and brown squirrels the same color as the trees, the rabbits in the night, and so on. Had Jameel been an older writer, and had he not had a such a good poetry teacher, he would have been told to narrow his subject; writing about "life" is after all a rather large topic.
Jameel's poem is a bit of an odd choice to put forth here. But for me it embodies many values of poetry I love over time, whether it the work of Dickinson or Hopkins or Lorine Niedecker or Forrest Gander or giovanni singleton; it is risky and free, and it is general and local.  As a child, I read single short poems aloud to myself, poems I grew to love, that can convey the vastness of mental moments in compressed forms. It doesn't mean I don't often love experimental postmodern projects or expansively social poetry or public installations or collaged mixed media writing. But at the core of my love for poetry is always the experience of a verbal event that can deliver quantum packets of strange energy. What we aspire to as poets is to deliver the news of imaginative language openly or secretly.  Sometimes we have readers we will never know about. Sometimes we work in obscurity, but we can imagine we have a few readers out there and can try to write poems for them that will last through multiple readings the way Jameel's poem has for me.
–Brenda Hillman
---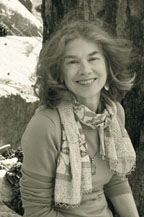 Brenda Hillman is the author of nine full-length collections from Wesleyan University Press, the most recent of which are Practical Water (2009), winner of the Los Angeles Times Book Award, and Seasonal Works with Letters on Fire (2013), which received  the International Griffin Poetry Prize for 2014. With Patricia Dienstfrey, she edited The Grand Permission: New Writings on Poetics and Motherhood (Wesleyan, 2003), and has co-translated Poems from Above the Hill by Ashur Etwebi and Instances by Jeongrye Choi. Hillman teaches at St. Mary's College where she is the Olivia C. Filippi Professor of Poetry; she is an activist for social and environmental justice.  Click here for author's website.
Be sure to check out our new poetry!

Common Sense (Ted Greenwald)
Age of Reasons: Uncollected Poems 1969–1982 (Ted Greenwald)
Azure: Poems and Selections from the "Livre" (Stéphane Mallarmé)
Fauxhawk (Ben Doller)
Scarecrow (Robert Fernandez)
The Book of Landings (Mark McMorris)
A Sulfur Anthology (edited by Clayton Eshleman)