Showcases the most innovative and politically engaged poets working in the U.S.
"These poets help us think about the society we have, the way that identities form within and against it, the attitudes we can examine if we want to know how to stand up, or see more clearly, or fight back."
—Stephanie Burt, Harvard University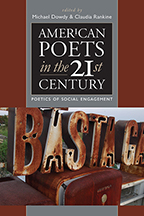 American Poets in the 21st Century: Poetics of Social Engagement emphasizes the ways in which innovative American poets have blended art and social awareness, focusing on aesthetic experiments
and investigations of ethnic, racial, gender, and class subjectivities. Rather than consider poetry as a thing apart, or as a tool for asserting identity, this volume's poets create sites, forms, and modes for entering the public sphere, contesting injustices, and reimagining the contemporary. Like the earlier anthologies in this series, this volume includes generous selections of poetry as well as illuminating poetics statements and incisive essays. This unique organization makes these books invaluable teaching tools. A companion web site will present audio of each poet's work.
Michael Dowdy is the author of Broken Souths: Latina/o Poetic Responses to Neoliberalism and Globalization and Urbilly. He is associate professor of English at the University of South Carolina.
Award-winning poet, critic and activist Claudia Rankine is the author of five collections of poetry, including Citizen: An American Lyric, and she edits the American Poets in the Twenty-First Century series. She is the Frederick Iseman Professor of Poetry at Yale University.
September
416 pp., 2 illus., 6 x 9"
Unjacketed Cloth, $80.00
978-0-8195-7289-7
Paper, $29.95
978-0-8195-7830-3
Ebook, $23.99
978-0-8195-7831-0