Classic magazine captures New England state on the brink of transformation
In Country Acres and Cul-de-Sacs, Jay Gitlin revisits Connecticut's dramatic mid-twentieth century changes, through the pages of Connecticut Circle magazine.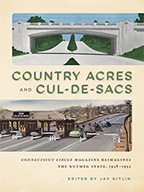 In 1938, the first year of its publication, Connecticut Circle magazine covered the opening of the Merritt Parkway in June, a devastating hurricane in September, and a transformative election in November that saw Raymond Baldwin replace Governor Wilbur Cross on the brink of WWII. Covering the news, recreation, literary figures, and politicians, and above all—the achievements and products of the state, Connecticut Circle entertained, promoted, and projected the image of a bustling state with more than its share of creative citizens and renowned institutions of higher learning.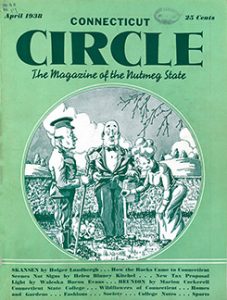 With an illuminating introduction and context-setting headnotes for its thirteen sections, this volume provides a wealth of fascinating articles for anyone seeking to reminisce, and understand the values that pushed Connecticut into the postwar world.
Jay Gitlin teaches history at Yale University. He is the author of The Bourgeois Frontier: French Towns, French Traders & American Expansion and co-author of Under an Open Sky: Rethinking America's Western Past. He lives in North Branford, Connecticut.
December 3, 2018
328 pp., 9 x 12"
Paperback, $29.95 978-0-999-7935-0-3