This week's Throw Back Thursday selection is "Coal" from The Collected Poems of Barbara Guest (2008). It was originally published in her 2002 collection entitled Miniatures and Other Poems.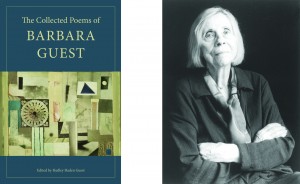 ---
COAL
The black curtain has fallen over the moon, yet stars are out tonight. Dust
falls through the curtain. We are asleep. Night descends into another part
of the house, coal shifts in the bin.
My grandfather shuffled the coal veins that come from the deep shoulder.
My eyes are closed, flecks of coal fall onto my cheek. He brushes them
away. He brushes my shoes with a little shoe brush. Soon his eyes are
closed. His eyes shine red in his kingdom. I view the coal God through
dust, darkest dust.
---
BARBARA GUEST (1920–2006) published over twenty volumes of poetry and earned many awards including the Robert Frost Medal for Distinguished Lifetime Achievement from the Poetry Society of America.